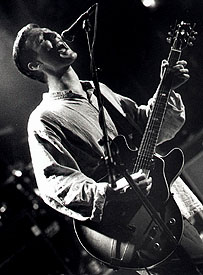 Cast from the Same Old British Mold
Cast
with Self and The Hollow Bodies
The Starfish Room
Vancouver, B.C.
June 13, 1996

Review by Daniel Ewacha
Photography by Paul Clarke
---

It was like a scene out of Quadrophenia, with all the Vespas (Where can I get one? If any one knows, let me know!) lined up outside the Starfish Room and a sense of Britishness filling the air, as the anxious and eager crowd filled the venue to capacity waiting for the arrival of yet another "biggest band in Britain." This time it was Cast, hailing from Liverpool, who had the dubious task of making us pogo and bob till our heads fall off.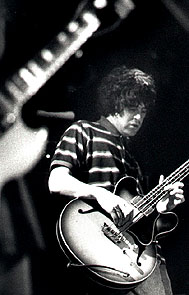 Lead vocalist John Power, who, incidentally, used to be the lead vocalist of the LA's, and whose voice is like a cross between Paul McCartney and Davey Jones, serenaded the audience, accompanied by Liam Nelson on guitar, Peter Thornhill on bass, and Keith Richards (no, not that Keith "stoned beyond all comparison" Richards!) on drums. In my mind, Richards stole the show with his flailing arms and hyperactivity, showing unusual motion for a drummer.
Playing tunes in support of their debut album, All Change, Cast entertained the audience, turning them into a huge gooey gob of playdoh which allowed itself to be transformed into every shape imaginable. The members of Cast had a right good time on stage despite untimely interruptions due to Power's amp cutting out periodically. Needless to say, the audience had a great time as well.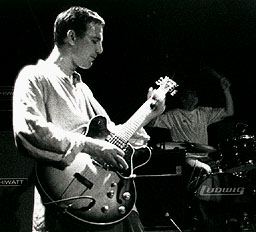 It seemed, though, that Cast have sacrificed originality over entertainment value, as they produced nothing but the same guitar noise we expect and inevitably hear from British bands these days. This didn't bother the people on the floor -- they were too busy experiencing the sonic, tranquil symphonies that Cast delivered as they closed the show with a wall of feedback, another British trademark.
Opening the show were Self from Tennessee. Quite frankly, I didn't think much of them, and I felt cheated. Their songs had a quality to them that would make you pull your hair out and stuff it in your ears. I say this with frustration because their songs had the potential to be something extraordinary, but the show seemed like a big waste of talented and kick-ass tunes. It was almost like the band was playing mind games with the crowd: start the songs off hard and rocking then completely mellow out, leaving you with the feeling of missing out and the yearning for more than what was given.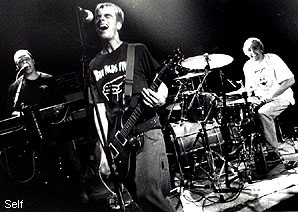 It was interesting to hear vocalist Matt Mahaffey's rendition of Alanis Morrissette's "Ironic," wherein he substituted his own lyrics uncomplimentary to Alanis, to the delight of most of the audience. However, as I'm an Alanis fan, it was only another X against Self.
Also on the bill were the Hollow Bodies. These guys were top-notch, providing the ever-growing audience at the beginning of the evening with R.E.M., Stone Temple Pilots, and 10,000 Maniacs-influenced musical escapades.
All in all, the show was decent: not great, not bad, just a bit better than good. And as I left the Starfish Room admiring the Vespas lined up outside, hearing Cast proceed with their encore, I began chanting the first and only thing to come to mind: "We are the Mods! We are the Mods! We are, we are, we are the Mods!"
---
First published in Drop-D Magazine on June 20, 1996
Index | Search | E-mail | Info | Copyright

Considering copying some of the images from this story?
Please read this first. Thanks.