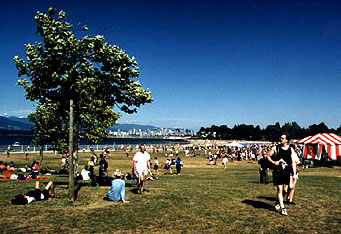 A Sunday in the Park
Vancouver Folk Festival
Jericho Beach
Vancouver, B.C.
July 19-21, 1996

Narrative by P. Freako
Photography by Rodney Gitzel
---

Chapter 1: Love in the Morning

The sun shone brightly, warming the grass as a small gathering had collected to bask in stories of love. Bob Snider hosted a workshop in which he and a trio of other songwriters sang and strummed their way into our souls. Snider, Ferron, Dick Gaughan and Jane Siberry performed beautiful songs of love and compassion, filling the air with gentle wisps of energy which we soaked up deeper than the sunshine. Playing together at times, these performers collectively readied us for a day of harmony. Ooommmm.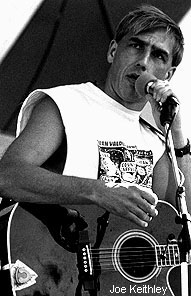 Chapter 2: Mamoo or Bust
Wandering off to see the Savoy Cajun Band, from Eunice, Louisiana, I saw these Cajuneers spice up the morning with their subtle, but upbeat traditional Cajun fare. Like the food, it was hot and full of personality.
"A bunch of characters" would best describe Jughead, a ten-piece acoustic band from Toronto. They began with a way cool cover of Motorhead's "Ace of Spades." Later, as their energetic set drew to a close, I felt an emptiness inside. They didn't play their hockey song! Wait, they just saved it for the end. "Do we play hockey? We play... 'Airhockeyballhockeyice-hockeyfloorhockeytablehockey'" It's fun, it's Canadian, but I hear the call of the highway.
Marc of the Savoy Cajun Band had told us about Mamoo, a little town in Louisiana: "It's a party town, there's three churches and 27 bars and the town's only two blocks long." My mind is now on the highway with a Cajun band, 10 weirdos from Toronto, holding a sign painted in hot sauce, reading, "Mamoo or Bust."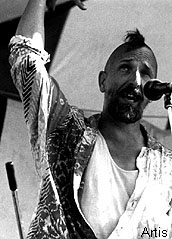 Chapter 3: The Spoonman (Yes, the Spoonman)
I suddenly awoke to find the number of spoons on stage outnumbering the people in the audience. That makes no sense unless it's the spoonmaster, Artis, who's putting on a spoons workshop. He didn't want anybody to tape or record this workshop because they didn't ask his permission. He wants the people attending to take it home in their memories. I assumed that went for writing too, so I'll say he was rare and entertaining, but the rest is locked inside my head.

Chapter 4: Openness & Precession
I caught a glimpse of Jane Siberry singing the words, "we are in a time of openness, we are in a time of precession" and as I listened, I stared at the surrounding mountains being destroyed by development, houses becoming precise mountain climbers. I thought of the way we are headed as a society, and how the only openness we're going to achieve is through a precession of total desecration, until we no longer have an option. Saddened, I wandered towards the marsh and made my way up to the stage to witness Mr. Snider easily extract smiles and laughter out of the crowd. I needed that.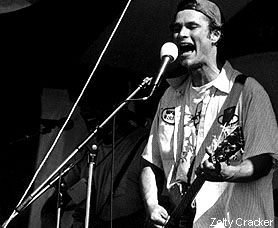 Chapter 5: The Beat of Vancouver
Dal-Dil-Vog, Zolty Cracker and Kinnie Starr were the locals for this showcase. Zolty Cracker played with their patented harmonious, chant-like wailings and rhythmic percussion and though I didn't like them at first, the more I saw of them, the more I realized that they are empowered with a driving creativeness that is enchantingly impressive.
Kinnie Starr was next and I can see why she is garnering so much attention. Not necessarily because of her actual performance, which was... you know... pretty good, but more because she carries this air of confidence and a coolness to her presentation. Her hip-hop/spoken word style didn't do too much for me, but it did put others in a trance.
Dal-Dil-Vog finished up the showcase, with pop rock songs and a flashy rock style -- in Punjabi! They're good musicians and a good band, but I find 80's rock stuff mundane. Saying that... all three bands came up for a jam session and led the crowd in a pumped up version of "Cecilia." Cool.

Chapter 6: Thank you, Manuel
Wandering like a minstrel from stage to stage, I proceeded to "Hard Words for Hard Times." Joe Keithley (D.O.A., Green Party), sang of politicians' recent environmental actions and reminded us that the only thing "green" about them is their money and if we stand up for our rights we won't be alone. Artis the Spoonman sang of the rainforest and sang for the equality for women. Zolty Cracker sang of action instead of mere words. And Stark Raving Chandler?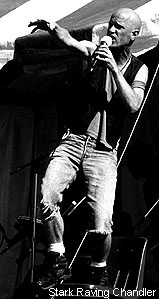 They warned us of Christian Fundamentalists and then stunningly related a most beautiful tale of pain, desperation and finally, hope. In a weird, fleeting moment racing 727's down the runway at the Atlanta Airport, one friend brought the other to see a cemetery at the end of the runway. This friend had a family member buried there and in Georgia it's illegal to move a plot without permission. He refused to give the airport that permission, so every time a plane comes down the runway it has to make quick, awkward zigzags before it can take off. It became apparent, that Manuel, a slave boy of seven who had died over 150 years ago and rested in the cemetery, had been able to slow down the corporate inhumanity. Thank you Manuel.
This would be Stark Raving Chandler's last show together. Adieu.

Chapter 7: Damn Druids!
I ended up settling in for all that is Celtic. Newfoundlanders, the Planks brought to us an energetic display of Celtic stylings with a decidedly guitar edge. Are we moving towards Celtic grunge... are we? Ashley? The Planks rocked and had the audience on its sandals and dancin'.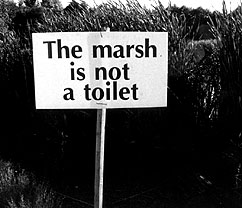 That dancing did not cease when Vancouverites the Paperboys (though two fiddlers were Papergirls) began their set of upbeat Celtic rock songs. The crowd was definitely appreciative of their musical talents.
Before I cry, Cordelia's Dad were the last to take the stage and opened up with a traditional fable followed by feedback and distortion. This fusion of Celtic and Grunge sadly abruptly ended with technical difficulties. I guess the trees didn't agree with that sort of thing. Damn Druids!

Chapter 8: Final Thoughts
This was an amazing day of harmony, eclecticism and talent. As I leave Jericho Beach, I am reminded of many moments and words that will stand out in my mind. This day was exceptional in every way and the organizers and artists created a picturesque world unto its own.
I'll definitely be there next year.
---
First published in Drop-D Magazine on July 25, 1996
Index | Search | E-mail | Info | Copyright

Considering copying some of the images from this story?
Please read this first. Thanks.