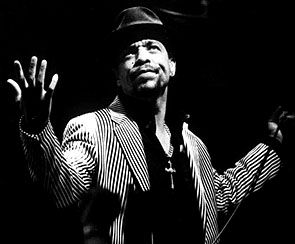 What? Me? Misogynist?
Ice-T
with Delinquent Habits
Richard's on Richards
Vancouver, B.C.
Friday, August 2, 1996

Review by Daniel Ewacha
Photography by Rodney Gitzel
---

"We decided that on this tour we were going to play the smaller clubs so only the real players and hustlers could come." With these words, Ice-T greeted the mass of hip-hop hystericals who packed themselves into Richard's on Richards. The other possible reason for the choice of smaller venues could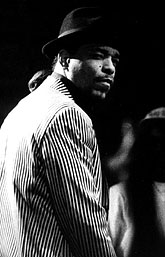 be the lack of support from fans that Ice-T enjoyed four or five years ago. Whatever the reason, the fact remains that Ice-T has survived seven years in this business, putting out six albums (a rare feat for any rap artist, as he is quick to point out), for two reasons: his strong raps and his undeniably good live show.

Walking on stage dressed in a pinstripe suit and big red fur overcoat, looking like a pimp from the 70's, Ice did what he does best: he dropped the bombs and tore the house down performing material from every stage of his illustrious career. Ice and Evil E, his longtime DJ and partner-in-crime, joined forces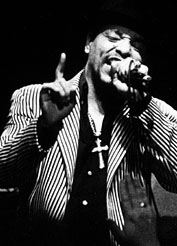 and blasted the crowd with a medley of Ice-T's trademark rhymes, including "You Played Yourself," "High Rollers," "Six in the Mornin'," "I'm Your Pusher" and "Peel the Caps Back." His title tracks off the movies "Colours" and "New Jack City" were especially well received by the audience.
Let it be known that the creator of the "Crime Rhyme" is not too high on himself to share the stage with a few wannabe rappers. The concept of "Virtual reality" was explained by Ice-T through a rap contest where four of Vancouver's finest (or worst) freestyle rappers were brought on stage to strut their stuff. Three succeeded in bringing the crowd to their feet while one found himself lost in cyberspace forever.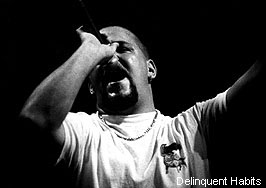 You can call Ice what you want: rapper, artist, pusher, player, misogynist, pervert, exploiter, preacher, high roller, author. Call him the Ice or just the Ice Berg. He's all of this and more. I prefer to call him an entertainer.
Opening the show with a very brief 20 minute set were Delinquent Habits from South Central L.A. Although the Habits warmed the crowd up with their beats and rhymes and patriotic chants about the west coast, they didn't display any sort of special flavour, and what they were doing has been done in the past and will undoubtedly be done in the future, raising the question as to whether rap can survive into the next century if it fails to evolve.
---
First published in Drop-D Magazine on August 17, 1996
Index | Search | E-mail | Info | Copyright

Considering copying some of the images from this story?
Please read this first. Thanks.