Need Your Hand Stamped, Ma'am?
Interview by Rodney Gitzel and Michele Martin
Live photography by Rodney Gitzel
---

34-second excerpt from "Stamp" (various formats)


Hagfish is a Dallas band that is best described by the title of their debut CD, Rocks Your Lame Ass. A bit of a boast, yes, but one that has carried them to Vancouver for a couple plum opening gigs. In the fall, they opened for the Reverend Horton Heat and, most recently, they opened the sold-out Everclear show at the Commodore. During that last visit, we had a chance to chat with guitarist Zach Blair and singer George Stroud Reagan III. Of course, we had to ask about those natty black suits...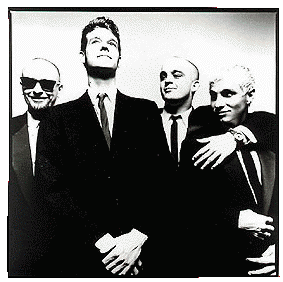 "They get pretty bad," says George, offering up a sniff. "You only wear them for about an hour a day, and you sweat in that hour, but if you just wash the shirt and your underwear and your socks, then everything else stays kind of clean." In retrospect, Zach notes, the suits had not been the best idea: "Every band is doing suits nowadays, and if that's what everybody's going to be wearing, we'll probably gonna be wearing work clothes for the next tour." Or, suggests George, "We'll wear like a horse outfit. Zach can be the ass end. Doni and Tony will be, like, a moose."
The band has spent most of the last year on tour, which has left them probably even more fatigued than their suits. Still, life on the road has its rewards, says George. "The coolest thing about it right now is I still have not gotten over it when you out in an arena like the size of the one in Seattle [opening for Everclear] with 5,000 kids and the music is so loud that you're dizzy, like it affects your ears, and then the crowd is so crazy that you just get disoriented. I can't explain the feeling, it's like crazy! It's the one thing, I do it, and then I go, oh yeah, this is what I'm doing this for."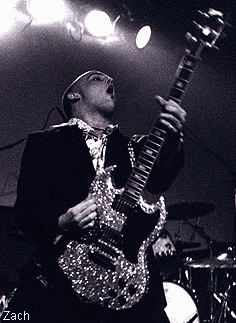 What kind of crowd do they find they are drawing? "We get transvestites, we get old people, young people, weirdos, we get really just nice people." But not really the Green Day crowd, says Zach, "[our fans] start at about 16 or 20; usually the young kids don't come out because it kind of goes over their heads." "Either that," adds George, "or it's because we say 'fuck' a lot." The band has also attracted a few well known fans. "[The Reverend Horton Heat] comes to our shows to like slam and stuff, and like, it's really weird," says Zach. "He's like supported us since day one which is really cool." Adds George, "For one of our shows in Europe, we were playing across the street from the Foo Fighters, so we went over and handed out a ton of flyers for our show. It was great! We had a packed show, and when we looked out, there were half the Foo Fighters out surfing on the crowd!"
Hagfish would do well to record a live album -- but what of the rumours it would be recorded in the nude? "Ah, no. We had talked about it though, actually," says Zach. "There's no telling with us. Can't talk about not doing it!" The other rumours are true, however -- parts of Hagfish's albums were recorded sans clothing, at least by some members of the band: "George did, yeah. To break sort of the monotony he got naked and did cartwheels and stuff. To loosen his voice up, he drank cognac and scotch, and he got real fucked up and got naked." Zach laughs, "It took him like forever to do his overtracks."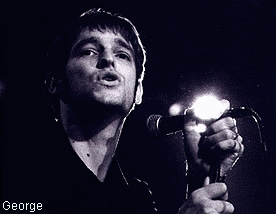 Now, what about That Song? You know, "Stamp"? "Well, it was actually about getting to play a show at this one club. A real nice looking girl ran the place, booked the bands. She had a crush on George, George had a crush on her...." George interrupts: "I mean it wasn't like directly related: I liked her, we got along, the band ended up playing a show there." Zach continues, "She was stamping hands, that's what her deal was. She was behind a booth stamping hands and people would walk by, and George was under the booth." George wrote the song for the first show they played at her club, never expecting to ever even play it again, and especially never expecting it to become such a hit: "I think it's funny when there's a lot of people that like have kids that listen to our music and there's like little five-year-old kids running around after the shows singing 'eat it while I work'..."
---
First published in Drop-D Magazine on April 11, 1996
Index | Search | E-mail | Info | Copyright

Considering copying some of the images from this story?
Please read this first. Thanks.