Out of Jale and Back on the Streets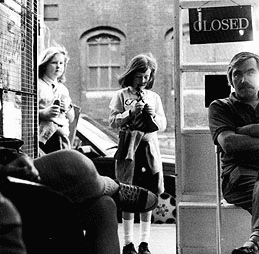 Jale
with Zumpano and Pal Joey
The Starfish Room
Vancouver, B.C.
Friday, April 12, 1996

Preview by P. Freako
---

30-second excerpt from "Double Edge" (various formats)


Jale first burst onto the scene in a big way in 1993 with their Sub Pop album Dreamcake. They were part of a large contingent from Halifax to catch Seattle-based Sub Pop's attention. Other members of that contingent -- the Hardship Post and Sloan -- are by now familiar household names. The Halifax-Seattle connection became a launching pad for these bands, and Halifax even developed its own sound, described as "power pop with that quirky Canadiana underbelly."

Jale doesn't see themselves as a Halifax band; rather, they are just a band from Halifax. Bass player Laura Stein confirms that, although it hasn't been too tough losing that image in the U.S.A. because not many people have ever heard of Halifax, it is a bit of a stigma in Canada. However, with the success of their previous tour, they have started to shed that Halifax label, and are becoming known simply as Jale, a cool band.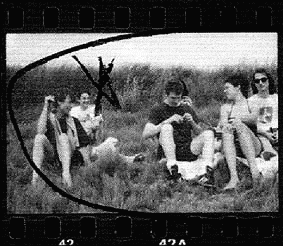 In 1995, Jale released an EP entitled Closed on Halifax-based Murderecords. It received solid reviews as more of the same personal pop that Dreamcake offered. Nevertheless, after that release the band was forced to do some inner-searching. Drummer Alyson Macleod left the band, while Laura and guitarist Eve Hartling decided to finish their degrees. Having to have a job, go to school and be in a band is a dizzying schedule, and Laura admits that she has developed an earnest appreciation for sleep, but the band decided ultimately to keep going on. Laura and Eve are out of school, now, and Mike "The Cowboy" Belitsky -- he's got a wicked hat, apparently -- has signed on as the new drummer. "Jale" is an acronym for the band's original members' names, but Laura assures us the band won't be changing its name to "Jmle" to reflect the new line-up.
And with this new lineup comes a new album: Jale's second Sub Pop release, So Wound, is nearly upon us, and is due out June 4. Recorded in Chicago and produced by Brad Wood, who worked on Dreamcake as well as with the likes of Liz Phair and Veruca Salt, So Wound promises more elegantly-crafted pop songs, but this time with maybe just a bit more of an aggressive approach. At
least, Laura said, that's what people have been saying. Hmmm. We obviously can't take her word for it, but not to worry! Vancouver's opportunity to go to Jale will be this Friday, April 12th, at the Starfish Room, with guests Pal Joey and fellow Sub Pop'ers (and Vancouver's own) Zumpano.
With the release of So Wound, Jale will be touring the U.S. in the summer and then will hit Canada in the fall, so go out and catch them now, because they won't be back for a while. Laura emphasizes, "It's kind of scary sometimes when you look at your calendar and your whole year's booked, but you kinda get used to it." There you go, all you have to do is book off one single Friday night. Me thinks you should do it and enjoy the show. See you there!
---
First published in Drop-D Magazine on April 11, 1996
Index | Search | E-mail | Info | Copyright

Considering copying some of the images from this story?
Please read this first. Thanks.