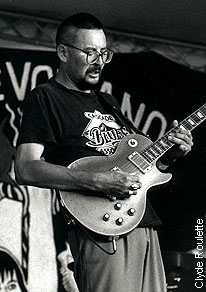 Where's My Lava Lamp?
Under the Volcano
The 7th Annual Festival of Art and Social Change
Cates Park
North Vancouver, B.C.
Sunday, August 11, 1996

Review by P. Freako
Photography by Paul Clarke
---

Under the Volcano, the annual festival of art and social change, makes you realize that there is no time like the present -- so I arrived early.

Before the opening ceremonies, Cicada took to the mainstage and performed a short set of folk harmonies to the scattering of people still trying to get the sleep out of their eyes. They took the edge off of our tiredness and we were now ready to begin. Chief Leonard George, of the People of the Inlet, welcomed all to his people's land. He shared a story passed down from his father. Unification as a people can only happen through the unification of self. The power of one as it were.

Following his words, we were treated to groups of performers such as the Nishka dancers and the Northwind dancers. Each traditional dance, though not outwardly flamboyant, was captivating in emitting its messages. I wandered off, my mind feeling alive.
I checked out the various artisans displaying their information, wares and messages. There was some unique jewelry and clothing lodged between a plethora of information. Everything from the Forestry Action Network to Virtual Learning and everything in-between. I picked up some very interesting information that's going to make me explore some things that maybe I've taken for granted.
In conjunction with the information component, Under the Volcano hosted a number of workshops including D.I.Y. Youth Radio, Media Sabotage, First Nations Treaty Process and the Gustafsen Defenders. Speaking of the latter, Lavina White, longtime native activist and spokesperson, spoke of the Gustafsen Lake Standoff. Remember all the hype that surrounded the incident? Well, the issue is still in the courts and did you stop to think why there isn't the media hype anymore? Perhaps the truth is coming out? Maybe we should check it out for ourselves.
The show must go on, so back to the mainstage to catch Grrrlapalooza. That's right, girl bands. What a novel idea. Ya whatever. If you thought girls in bands was a novel idea, or if the Go-Go's immediately came to mind, go straight to jail, don't collect $200 and don't pass go. So who did play?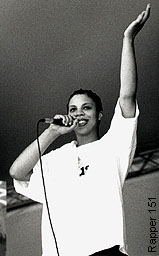 Puncture blew me away. They reminded me of Rage Against the Machine in their passionate intensity and punished us with their words and energy. They ruled. Veda Hille also ruled. Her jazzy style of folk/rock was highlighted by powerful songwriting and by her manic keyboard playing and overall style on stage.
Rapper 151, from Portland, had the sandal wearin', bead totin' hippies groovin' to their stylish raps and made us feel just a little cooler for it. Peace. Also from Portland, the Third Sex were here to "punk - us up" and, though they weren't overly unique, they were pretty cool. Tribe 8 closed the festival and I was wandering elsewhere in the park, which was dumb on my part, because this is a bad-ass dyke hardcore band that always blows the crowd away and I'm sure they did it again.
Now, I must interject and say that our hosts were pretty cool. The emceeing duties were shared by the infamous and flamboyantly outrageous Christine "spank a hippie" Taylor, and the sometimes goofy but hip Archer Pechawis. They kept us entertained with their banter. Christine Taylor was going on and she was so excited, "There's a bunch of dykes and Indians backstage and it's great, there ain't no fightin' going on, and the chief's wearing makeup." Archer had to jump in, "Hey, easy now."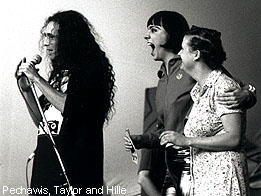 That's the way it was today, there was a bit of everything. Pacifica was hosting a rave down by the beach, and down the Malcolm Lowry Trail there was the poetry stage, nestled among the trees. It was there where I learned of the universal connection between Christianity, television and breakfast cereal: "If necessity is the mother of invention, then surely Christianity is the mother of television."
Let's not forget that Under the Volcano, besides being a festival for art and social change, is also a celebration of indigenous culture and there were a number of performers to honour "A Decade of Indigenous Peoples." Wayne Lavallee, Fara, Mary Longman and the Clyde Roulette Band showcased their musical talents and it was cool to see them perform not as a special showcase, but as part of the overall festival, reminding us that we are all here together and that a celebration of indigenous culture does not mean its isolation from everyday society. Claude Mackenzie, of Kashtin fame, was the performer of honour today, playing a powerful, moving set that had everybody engrossed and dancing under the stars.
This 7th Annual Festival of Arts and Social Change showcased both, proving that Under the Volcano is a good place to be -- unless you're a sacrificial virgin, of course.
---
First published in Drop-D Magazine on August 23, 1996
Index | Search | E-mail | Info | Copyright

Considering copying some of the images from this story?
Please read this first. Thanks.