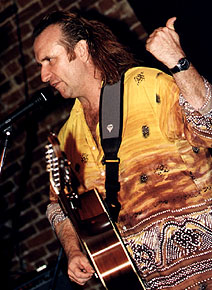 The Man from Down Under
Colin Hay
with Melanie Doane and Jay Knutsen
Gastown Music Hall
Vancouver, B.C.
Saturday, August 24, 1996

Review by Daniel Ewacha
Photography by Suzanne Goodwin
---

It was an evening destined to bring out the sedate side of the people in attendance. Not that this show was going to boring, but rather that on this night there would be no bashing of thunderous drums, nor would there be any ear-splitting guitar solos. No, this evening was to be filled with sweet melodies done acoustic-style, courtesy of Jay Knutsen, Melanie Doane and Colin Hay.

Knutsen, a long ago and original member of Spirit of the West, kicked off the mellow mood quite subtly: walking on stage with guitar in hand, he delivered his songs to those who were interested enough to listen. The lyrics were difficult to make out over the chatter of the obnoxious many in the peanut gallery, but the first-class sound of Knutsen's artsy-folkie rock filled the room and the ears of all present, leaving them, if anything, a soundtrack for their drunken conversation.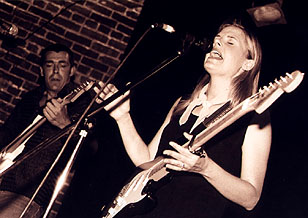 Knutsen did not seem to be as bothered as I was by this rude and unfortunately ever growing behaviour. He even attempted to get some audience participation by telling of his experiences at the recent Warped Tour, talking of the differences between acts of today and yesteryear and their attempts at getting a rise out of the crowd. Today's attempts were demonstrated at the end of his next song where he had the audience (or, those that were paying attention) raise their fists and yell "FUCK!" This feeble yet humourous attempt to gain support seemed to work; however, it was too little too late, and Knutsen closed out his set with an old Spirit tune, "The Crawl." A fitting end, as it seemed that that's what most of the crowd were participating in.
Melanie Doane was next to grace the stage and, to be honest, I had no idea what to expect. What I and the rest of the crowd got was an interesting mix of adult contemporary (Celine Dion, Mariah Carey), new age (Enya, Loreena McKennit) and Celtic harmonies, the latter of which was no doubt due to Doane's original hometown of Halifax.
It was during the times her East Coast roots surfaced that Doane shined the brightest. Her fiddle literally sang in her hands as she serenaded us into a trance and laid our hearts to sleep with her voice. However, it was during her more upbeat, poppy numbers, however, that Doane seemed to falter a bit, dishing out tunes in the same fashion we've heard others do a million times before. Still, she did make an impression, and in the end she left the stage having likely won more than a few new fans.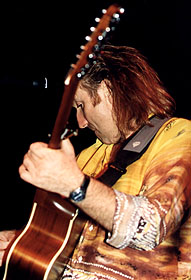 If you were asked who Sting is, chances are that you would answer that he is the ex-vocalist/bassist of the Police and now a successful solo artist. Now, if you were asked who Colin Hay is, chances are you would answer "Who?" Hay was the leader of early 80's Australian supergroup Men at Work. Remember them? Of course you do. Hay has not shared the same success as Sting has, but, watching Hay perform, it totally escapes me why he isn't as big as the ex-cop.
Colin Hay is one of the most gifted songwriters I have ever heard, and his performance this night was nothing short of inspirational. Combining material from his own solo albums and from the Men at Work catalogue with an incredibly hilarious sense of humour, Hay and his acoustic guitar treated all those that had stuck around to catch his show to a performance which can only be regarded as 'perfect.'
The tunes from his latest release Topanga showed how, over the 14 years since Men at Work's debut album, Hay has grown from a songwriter of catchy, memorable pop songs to a songwriter who put life (possibly his) into perspective, giving his listeners a new and refreshing glimpse into life itself.
Those catchy and memorable pop songs did, however, find their way into Hay's show. An acoustic and less-frightening version of "Down Under" (less-frightening? Long story...), as well as "Be Good Johnny", made appearances in his encore, bringing tear-jerking memories to my eyes and ears.
After having spent $30 to see Sting perform a lackluster set two weeks ago, I was more than happy than to pay $8 to see Colin Hay tonight, and I would pay ten times that. Hay is deserving of more than the little attention he currently receives. But this is a funny business, the music industry is. If Sting isn't careful, the roles he and Colin Hay play now could well be reversed in the future.
---
First published in Drop-D Magazine on August 30, 1996
Index | Search | E-mail | Info | Copyright

Considering copying some of the images from this story?
Please read this first. Thanks.