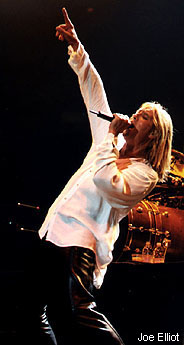 A Little Mature Hysteria
Def Leppard
with Tripping Daisy
GM Place
Vancouver, B.C.
Tuesday, September 3, 1996

Review by Daniel Ewacha
Photography by Rodney Gitzel
---

Tripping Daisy had the honour tonight of opening for Def Leppard, an honour which was, judging the band's performance, unfortunately undeserving of this quartet from Texas. "Boring," "dull" and "unimaginative" were just some of the words that entered my mind to describe their show. Their backdrop, painted with a lagoon surrounded by tropical islands, with the words "Tripping Daisy" jutting out in a sort of 3D fashion, Superman style, was more entertaining than the band itself. A bad sign.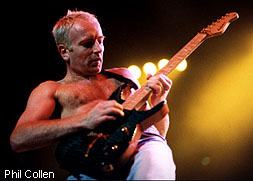 It was, I admit, hard to feel so negative about them when they were so polite and sincere in their expression of thanks for the sporadic applause offered by the crowd. But, in the end, it's the music that counts, and even when their two biggest hits -- er, well, best-known tunes, "Piranhas" and "I Got a Girl," failed to register any decent amount of applause, it makes me wonder how much of B.C.'s wonder plant, which Tripping Daisy holds so dear, the band had smoked before they went on.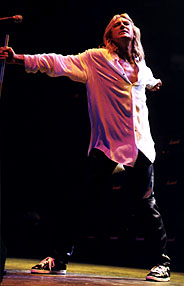 All I had been hearing before the show about Def Leppard and their new album Slang was how mature and different it sounded compared to anything the band had ever done before. Obviously no one had mentioned this to Joe Elliot and the boys as they blew into the Garage for a truly intense and musically intoxicating set filled with material that spanned their recording career.
Although they lacked a brilliant "visual" show, the technical abilities of the band and the holy voice of Joe Elliot filled GM Place with much more substance than any amount of smoke machines, flashpots, strobe lights or inflated balloons could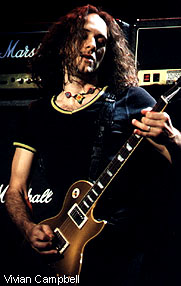 ever hope to create. Maybe this is what people meant by a more mature Def Leppard. Maybe not. The 'let me hear you sing it!' pose was pulled off in fine fashion, with one hand to an ear and the mic pointed to the crowd, as was the 'raise your hands to the sky and clap them for me' bit, which, although viewed as aged cheese from 10-12 years ago, fit perfectly into this new "mature" Def Leppard. The crowd ate it up with their crackers in hand.
The band took most of their set with songs from Pyromania and Hysteria, their two biggest-selling albums. Classics like "Animal," "Hysteria," "Photograph" and an intense version of "Rocket" went off like New Year's Eve 1999. The band also chose to tug at the heart strings of the audience with an emotionally-charged "Have You Ever Needed Someone So Bad" and an unplugged acoustic stab at "Two Steps Behind."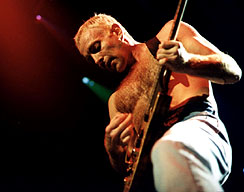 One thing about Def Leppard that has always impressed me is their incredible harmonizing style. The way their voices blend together brings life to the songs they so passionately sing. This point was made by "Let's Get Rocked," "Pour Some Sugar on Me," "Hysteria" and "Slang." There is no one better at it than Def Leppard.
My only complaint about the show was the band's latest single, "Work It Out." I personally love the recorded version of the song, but it was lacking something, live. But, no matter. The show brought to us by Def Leppard was purely spectacular, and, as they ended it with "Rock of Ages," I thought to myself, "Def Leppard, mature? I don't think so!" They're as child-like and exuberant as ever, and that's why people love them so.
---
First published in Drop-D Magazine on September 13, 1996
Index | Search | E-mail | Info | Copyright

Considering copying some of the images from this story?
Please read this first. Thanks.