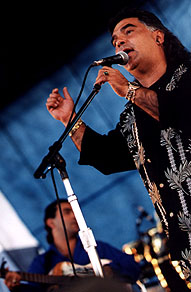 The Kings of Nat Bailey
Gipsy Kings
Nat Bailey Stadium
Vancouver, B.C.
Sunday, September 15, 1996

Review by Michele Martin
Photography by Alan Katowitz
---

Another typical early fall afternoon in Vancouver as you try and decide whether you're boiling or freezing. Out comes the sun from behind those ominous looking grey clouds, the rain finally having ceased, off goes the jacket and on come the sunglasses. On comes a chilly breeze, on goes the jacket, etc. Oh well, if the weather was inconsistent, at least the Gipsy Kings were consistent -- consistently good, that is.

(Arriving just before the show started, I missed the opportunity to take in the rather unusual combination of the sangria/tapas bar set up near first base. Rats! Oh well, on with the show.)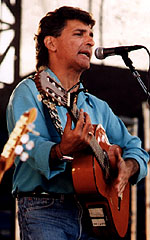 The Gipsy Kings took the stage only slightly behind schedule, all seven of them grinning broadly and carrying their guitars. Yup, that's right: there were seven guitarists on stage, not to mention the various percussionists and keyboard players. Vocalist Nicolas Reyes still has that distinctive growly voice that characterizes the Gipsy Kings sound, whereas guitarist Tonino Baliardo is outstanding on electric guitar, and the two cousins eagerly setting the pace and tone for the evening. Cousins? The Gipsy Kings are none other than the Reyes brothers, Nicolas, Patchai, Canut and Paul, and their Baliardo cousins, Paco, Diego and Tonino, all of whom have been playing together since the 1970's.
Performing a combination of songs and instrumental numbers from their current CD, Estrellas, as well as a smattering of tunes from their earlier albums, the Gipsy Kings' heartfelt playing managed to keep the audience moving, at least, once people caught on to the party atmosphere. Curiously, the audience was slow to respond to the infectious beat. Yet, from my seat in the bleachers, it was near impossible to just sit there while everyone else (including the many toddlers and youngsters running underfoot) was having a party on the diamond below.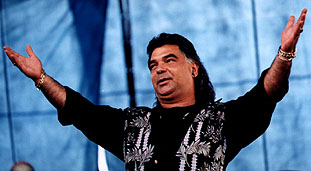 The Gipsy Kings were most successful when they stayed lively and quick-paced, the sharp, upbeat rhythm maintained with the band members clapping fiercely flamenco-style. A few of the more soulful tunes had almost a loungey feel, and I couldn't help but think I was listening to a Spanish Michael Bolton. Luckily, those aberrations were kept to a minimum. At one point, the band left the stage, and Tonino returned to play a number accompanied only by a percussionist. While Tonino's brilliant musicanship was evident in his incredible playing, the crowd quickly lost interest. This was a stadium show and they wanted to party!
It was fascinating to listen to the music and actually be able to pick out the diverse musical influences: a little lambada and latin rhythm here, a little jazz/rock groove thing there; throw in some wild gypsy melodies and pair them with lush North African/Moroccan arabesques (some of the tunes cried for a belly dancer with their sinuous, opulent rhythms) for good measure; add in a solid dose of Spanish flamenco and European/French country rhythms and there you have it: a melange representative of the band's French/Spanish/North African heritage. My only regret is that I don't speak Spanish; I would have liked to have understood what the musicians were saying to the audience throughout the show. Judging by the audience's positive response, it was something appropriately friendly.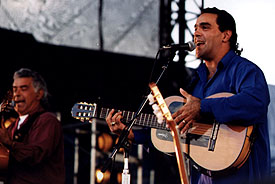 After some 18 songs (including "La Rumba de Nicolas," "A Ti a Ti," and "A Tu Vera"), the lively show came to an end with the finally impassioned audience enthusiastically roaring for more. First the stage lights went off, then on, then off, then... you get the picture. After a few minutes, out came the still grinning (surprise, surprise) group to finish with their signature tune, "Bamboleo," accompanied by the graceful yet provocative moves of a woman dancer.
The sightlines at the stadium were excellent, as was the sound mix, which remained clear throughout, demonstrating a considerable improvement over previous Nat Bailey shows. The Gipsy Kings played passionately and professionally, and put on an entertaining and enjoyable show. And if you missed this one, you not only missed out on some wonderful music; you probably also missed the last chance to see live music at Nat Bailey period, as the latest rumour says that stadium shows will be no more, at least in this venue, due to complaints from the locals over the sound level. That is a real shame, particularly for Vancouver, a city which is rapidly losing its venues for live music.
---
First published in Drop-D Magazine on September 27, 1996
Index | Search | E-mail | Info | Copyright

Considering copying some of the images from this story?
Please read this first. Thanks.