Another Joe, Please, But Hold the Gob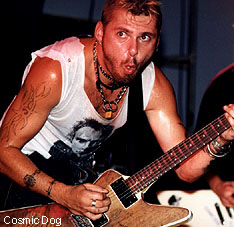 Gob
with Cosmic Dog and Another Joe
Club Paradise
New Westminster, B.C.
Friday, September 20, 1996

Review by Darren Kerr
Photography by Rodney Gitzel
---

Hmm. So this is Club Paradise. I was expecting a real dive full of Final Net and thugs. This is actually nice and comfortable, especially the bamboo cushioned chairs.

Anyway, first into the ring this evening was Another Joe. They play hard and tight with a rhythm section that could break your neck. Songs like "Big Day One," "Simon Says," "Dink," and the "Dork Song" were well crafted and clever, becoming samey only after at least eight songs. This in itself is quite an achievement for a punk band.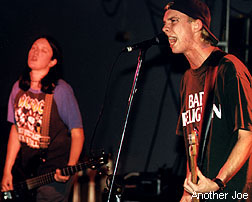 The band had great stage presence: the lead singer made facial expressions straight out of the Red Skelton catalogue; the bass player did the obligatory rock and roll sway -- except when she did her Betty Boop dance; and the drummer looked like he was well on top of what he was doing. Another thing that Another Joe did well was recover from their mistakes, making the gaffs even more entertaining than if they'd played them right. By the end of their set the band had the audience playing Simon Says and doing the Dork dance. All this, and the singer even had strep throat!
Cosmic Dog, on the other hand, weren't so cosmic. They looked and sounded out of place, too old school, too new wave. They were also tight and well-rehearsed, but something was lacking. When the bass player sang, he came across as Nash Kato or Mike Patton, except for the ill-chosen cover of Blondie's "Heart of Glass," which was more Crash Test Dummies than Darby Crash. The lead singer barked out the majority of Cosmic Dog's set, a set which probably would've went over better on a more hard rock bill. The crowd didn't like them at all, but I think that's because they didn't look or sound Epitaph at all. The sound wasn't so hot either, leaving the guitar hanging out to dry with a very tinny, not at all warm sound.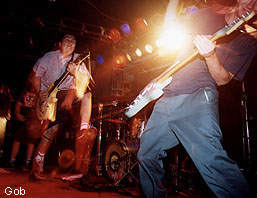 Cosmic Dog were glad to get off the stage and I was relieved for them. I spoke with Derek, the singer, afterwards and found him to be very down-to-earth and quite personable. I had heard good things about this band, so I'll give them benefit of the doubt and chalk it up to a bad night for Cosmic Dog.
Lastly, and certainly leastly, came Gob. Apparently the Gob-ers were upset afterwards that they didn't know their show was being reviewed. So what?!? Would that knowledge have meant a better set? Could Drop-D's presence have guaranteed a show free of endless dicking around and phony punk posturing? Would they have taught their stand-in bass player the songs before the show? Would they have spent more time playing and less time talking with drunks?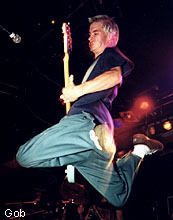 At one point, after rightfully thanking Another Joe for their killer opening set, Gob decided that Cosmic Dog needed a name that was more punk and suggested "Cosmic Dog Balls." They then proceeded to slag the band at every turn. Maybe Gob should change their name to something more truthful and more punk rock, perhaps something like "Gob Shite."
To be fair, when they finally played their own tunes (buried in between piss takes of the likes of "Beat It," "Walk this Way" and "Rock You Like a Hurricane," among others), they sounded at least half-assed. In this city, you're only as good as your buzz or your latest hit -- sad but true. Work harder, fellas, "Soda" isn't going to be on rotation forever.
Another Joe, you can come over for coffee anytime.
---
First published in Drop-D Magazine on September 27, 1996
Index | Search | E-mail | Info | Copyright

Considering copying some of the images from this story?
Please read this first. Thanks.