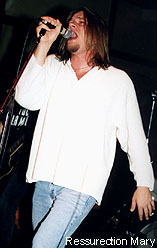 From Great to Worse
Ressurection Mary
with Stonehouse
The Picadilly Pub
Saturday, September 28, 1996

Review by Daniel Ewacha
Photography by Suzanne Goodwin
---

The Picadilly Pub this cool, clear autumn Saturday evening was pretty much deserted, much to my surprise, as this venue is notorious for its raging weekends when it plays host to some of the finest musical groups Vancouver has to offer. Did people know something I didn't? Was there a legitimate reason to stay away from the Pic on this particular evening? My answer -- in a word, yes -- came in the form of Ressurection Mary.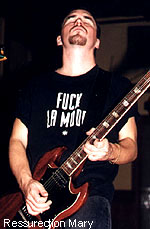 This band is to my understanding one of the better bands in town and have a more than average chance for bigger and better things. I have heard nothing but praise and good words about them through the press and word of mouth, both for their melodic and beat happy songs and energetic live shows. So it shocked me when Ressurection Mary proceeded to give a quarter-assed effort to entertain those in the crowd who bothered to show up. I either saw a totally different Ressurection Mary than everyone else previous, or I saw the same band but witnessed what must have been their personal nightmare, or possibly a mixture of both.
This show was doomed from the start. Where to begin? The vocals were incomprehensible and very poorly delivered with the lead singer's voice combining the best of Bob Dylan and the worst of Axl Rose. The band as a whole were sloppy and seemed to struggle with every note. As far as an energetic live show goes, I saw more energy displayed by the extras in the movie Coma.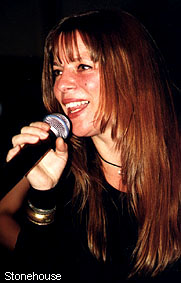 It was bound to happen sooner or later: every band has a bad night once in a while, and it seems Ressurection Mary had theirs on this evening. If Ressurection Mary are as good as people make them out to be, they should no doubt bounce back from this travesty of a gig. It was just unfortunate that my first time seeing them was this night.
Opening band Stonehouse, however, offered everyone more than a good reason to come down to the Pic, as they put on a good, solid entertaining show. Following a perhaps longer than necessary rendition of "Peter Gunn," lead vocalist Jayleen Stonehouse took the stage and immediately grabbed everyone's attention with her deep, soulful voice reminiscent of Sass Jordan, Alannah Myles, and Melissa Etheridge. A blend of rock, funk, soul, and snippets of jazz created a very interesting musical concoction to accompany Jayleen's voice. Surrounded by a bass player, guitarist, and drummer with what sounded like loads of experience, Jayleen brought it all together with her vocals, delivering an all around great show.
---
First published in Drop-D Magazine on October 5, 1996
Index | Search | E-mail | Info | Copyright

Considering copying some of the images from this story?
Please read this first. Thanks.