No Trouble at the Hip House
A Conversation with a Happy Paul Langlois of the Tragically Hip
Interview by Paul Watkin
Live photography by Rodney Gitzel
---

44-second excerpt from "Gift Shop" (various formats)


[ed. For those of you looking for the much longer version of this interview promised in the print edition, here it is. Not as longer as expected, however, as Paul W. decided to cut some stuff out... Doh!]


Has it been 12 years already? That's about how long the Tragically Hip have been together. It doesn't seem like it, but, as they say, time flies when you're having fun. I'm sure a great many of us can remember seeing the Hip in a small club at some point (for me it was at the Horseshoe Tavern in Toronto with the Skydiggers when Up to Here came out), and now they're playing three sold-out shows at the Coliseum and multiple sold out shows in cities across the country. They have become Canada's music darlings.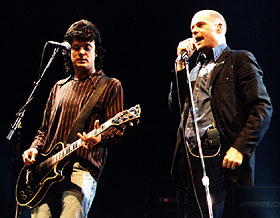 In a country that likes to shoot its successes in the proverbial foot, the Tragically Hip are one of the very few bands that we want to unleash on the rest of the world. The rest of the world just doesn't seem to be ready, though, and as Paul Langlois phones from his home in Kingston, Ontario, the band has just returned from touring south of the border. They have a couple of weeks off before they start the aforementioned Canadian tour, and he had just finished spending some time with his daughter. I feel relaxed already.
"The tour went really well. It was sort of a good situation for us, we were able to tour a great deal of the country and play all of the different areas, we came back home for brief breaks, but usually we just hit one area and come back. People were quite receptive and it was probably the best response we've had yet."
"The rooms we played really varied, anywhere from 300-500 capacity clubs to bigger theatres along the border and in places where we got our foot in the right door years ago, Texas, San Francisco, Chicago. Probably the biggest crowds we've had yet. It's nice playing in the smaller clubs, you can't beat the intimacy of it, but it's also great playing the big shows up in Canada... it's definitely weird coming home to play an arena, but in a good way. There is so much more involved, but it's an instant vibe and it's not too hard to get pumped for the Canadian shows."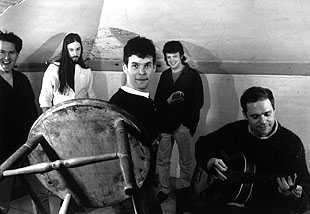 The Tragically Hip have always methodically attacked the dreaded U.S. market and each time they go down there, they play to larger crowds each time and gain overall support. They received a couple of breaks in 1995 when they appeared on Saturday Night Live and opened for Page and Plant on some of their U.S. dates, but to say that those were pure luck would be foolish. This is a band that has taken its time with everything they have done, and everything they have done, they have done well. They have produced their own breaks, always displaying an acute sense of perspective, and amid their best billboard and radio showing yet with Trouble at the Henhouse, I was surprised to hear Paul's next comments.
"The chance of us breaking the States is probably decreasing. I think we would be shocked if it happened, we've never really expected to do that. The promotional machinery is different, there is so much too cover, and maybe we haven't done it, but I think Henhouse is also probably the least radio friendly album we've done. Radio play and promotion aren't the most important things for us; making good records that we want to make and playing live are the most important and if we did break that market, I think we would have a sense that it would be a strain on our personal lives. It's nice to be able to spend some time at home."
"The goals of the band have pretty much stayed the same: we've always wanted a long, healthy career as a band, and I guess that's always on the back of our minds and, honestly, we also wanted our own place. Our own studio, somewhere we could leave our gear and jam and record some stuff when we wanted and we have that now. That was always one of our goals. Recording down in New Orleans was one of our favourite places, but it's definitely nice to have our own place. We'd also like to play in some different parts of the world, we would like to play India and maybe different parts of Asia, but again, I don't think we'll go at the expense of our personal lives."
It is their patience and sense of perspective that has allowed them to be healthy, creative individuals and as a result, a healthy, creative band. Every album has been different from the previous offering and Trouble at the Henhouse is no exception. Where Day for Night was more -- what's the word I'm looking for? Claustrophobic? -- Henhouse seems to have broken free from those walls. This is the first album that the band has produced and it made a noteable difference.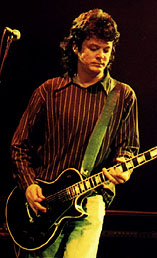 "We didn't make Trouble at the Henhouse for the fans, no offense to the fans, but we made it for ourselves. It was a bit of a risk self-producing the album, but I think it was the most natural step for us. I agree in that Day for Night was a darker album. There was some give and take with producer, Mark Howard. Recording at our own studio this time made a difference. We had more time and I think we were a little more comfortable in our own space, and that energy flowed on to the record."
The Tragically Hip kick off their Canadian tour November 8th at the Coliseum here in Vancouver. Barring of course, any surprise club date prior to that date, and they are ready to go.
"Ya, we're really excited about the Canadian tour. We've been lucky in being able to choose the bands we play with. Odds, Change of Heart, the Rheostatics... a number of years ago, we felt like outsiders, we didn't really know many bands and now we have becomes friends with a number and Steven Drake (Odds) mixed our latest record. He's a wonderful musician and he's got a great ear for music, so it was good having him involved on the record. We always want to be able to continue to play with bands that we respect and like. That's why the Another Roadside Attractions are great: we're fortunate enough to be able to put something together where we get a chance to play with all these great bands. They're a lot of fun to do."
Well, the Tragically Hip concerts are a lot of fun for us too and I can tell you that when the Hip kick off their tour here in Vancouver, the sold out crowds will undoubtedly let them know that the Tragically Hip are definitely no outsiders to Canadian music fans.
---
First published in Drop-D Magazine on October 31, 1996
Index | Search | E-mail | Info | Copyright

Considering copying some of the images from this story?
Please read this first. Thanks.