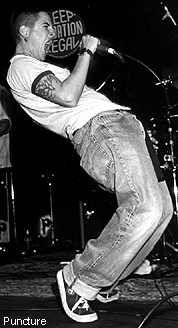 Choice Show Benefits All
Rock for Choice Benefit
with Team Dresch, Sparkmarker, Mecca Normal, Kinnie Starr, Joe Keithley, Puncture and Nathan Dillon
Vancouver East Cultural Centre
Vancouver, B.C.
Friday, November 15, 1996

Review by Rodney Gitzel
Photography by Dan Zubkoff
---

"So this is what it would have been like had Shakespeare been a punk rocker," I thought when I arrived at the Cultch, the wrap-around balcony bringing back memories of high school English. The seats were even filled by hooting and hollering young rabble -- albeit far better smelling than in Bill's time.

This was the setting for Vancouver's (now second annual) contribution to Rock for Choice, the abortion rights organization founded by L7 and supported by oodles of big-name 'alternative' bands. In particular, funds from this performance were tagged to fight the appeal of the abortion clinic "bubble zone" ruling here in Vancouver, and the sold-out crowd meant $2000 in that direction.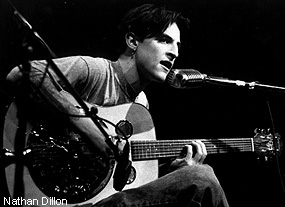 First up, with three nervous songs, were Nathan Dillon (from Puncture and Another White Male) and his talented dobro. New to the solo acoustic thing, Dillon pulled off a good performance, but his songs were a bit odd. The first two surprisingly pegged him as yet-another-folkie; it wasn't until his third song that any influence of his other incarnations came through.
One of those other incarnations was up next: Puncture. Vocalist Meegan was also one of the organizers of this event, and though she claimed to thus be exhausted, you wouldn't have guessed from her performance. She prowled forth and back across the open stage like a lion surrounded by steel bars. Or, by a glass bubble, actually: with most everyone seated in their plush chairs (save for a few dancers along the sides), it was hard to turn the band's aggresive performance into the experience you get from seeing them in tighter confines, where 'in your face' is taken literally. A solid performance, but they would have benefited from the pit that collected for the later bands. Oh well.
Joe Keithley surprised a lot of people. D.O.A., right? It's gotta be punk rock, right? BZZZZT! Wrong. Proving that there's more to being "punk" than just playing loudandfast, Keithley turned ears (and minds, hopefully) with everything from 1850's gospel ("This Train is Bound for Glory") to Leadbelly to old union songs to even a D.O.A. tune ("I See Your Cross"). He dedicated "The Yuppie Has to Die" to the NPA (who, sadly, swept city council, the next day, no thanks to the 70% of you who didn't vote!) and brought out the electric ("it just doesn't seem right without my old SG") for a smokin' solo reworking of "Devil in Disguise" à la the Elvis Cantata, a few weeks before. A long career of singing what he means and meaning what he sings has left Keithley a highly compelling performer, and this night his whole body shook and swaggered through the entertaining and well-received set.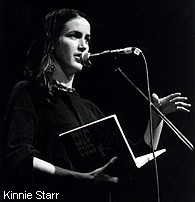 "I'm super super happy to be here. This is a really important issue to me. But I'm totally terrified." Kinnie Starr has had a lot of hype going for her, this year, and her solo performance tonight showed that it's not all just hype. She, too, is a very compelling performer; but where Keithley's presence is borne of confidence, Starr's arises from vulnerability -- a vulnerability that powers her music, but weakens her ability to perform. She nearly broke down several times (admittedly, she did relate some good reasons for feeling emotional about the issues, tonight), but a vocal outpouring of support and warmth from the full house kept her going. Good thing, as her songs (and poems) were powerful and impressive. I particularly enjoyed her wonky, non-tonal guitar playing -- think of P.J. Harvey's Rid of Me album and you're at least on a bus to the same ballpark. Starr is playing the Starfish in mid December, she says. Definitely worth checking out, though I am thinking the addition of her band might only be a distraction...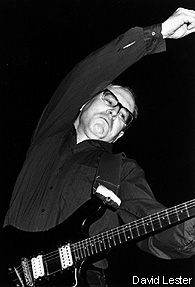 Mecca Normal are one of those legendary bands revered by scores of people (Donna Dresch later admited that M.N. inspired her to get involved with 'political' bands) but still almost completely unknown. How many Vancouverites realize we have a band signed to indie greats Matador Records? Whatever the reason for the duo's relative obscurity at home, it most certainly is not due to the lack of a captivating live show.
Guitarist David Lester, especially, is amazing to watch, even if he did give the girls next to me the giggles. A whirling dervish of the guitar (and looking like a not-so-long-lost Hanson Brother), his windmills put Pete Townshend to shame and his effects pedals took more abuse than is good for them. Probably a half dozen times he pulled the cord right out of his often airborne fuzz box!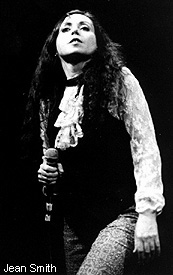 But, for all that, his abrasive, sometimes almost bluesy, playing is even more impressive. I've always admired Lester for his ability to carry everything by himself -- he IS the band. Again, additional players would likely only detract from what already is a very strong sound.
Vocalist Jean Smith, meanwhile, spent the show continually looking ready to pounce on the audience. It seems that her voice has changed over the years since I last saw Mecca Normal: she's sounding... more resonant, fuller... less shrieky. I quite enjoyed her singing, this time 'round, especially for "I Walk Alone," which they included in a medley of songs (questioning maledom?). She did walk alone, through the crowd, up into the balcony, back down again, all the while filling the Cultch with her solid voice.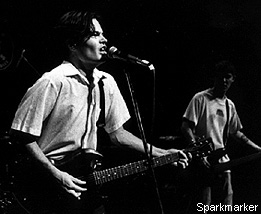 Now, what the heck were Vancouver's own (all male) Sparkmarker doing up on that stage? Isn't this issue a womyn thang? Maybe, maybe not. As the band's vocalist later (emotionally) pointed out, guys are allowed to care, and some actually do. So there.
The audience certainly was glad to see them, and the pit immediately filled for the first time that night. The band's intense, driving, bottom-heavy sound was as good as I'd been told. What was there to do but stand there and let them soak you with their music? Ahhh...
Finally, though, time for the headliners, Portland's Team Dresch, who made for an interesting experience. Topless dykes in the pit! Topless dykes in the pit! Whoops, did I say that? It certainly was different: a pit with almost no males and split into violent/non-violent sections. This was obviously the band the (yes, mostly female) audience had come to see.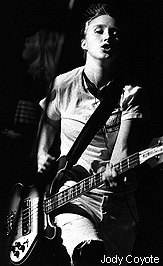 And what did they see? Well, vocalist Jody Coyote's breasts, for two things ("Donna's the politics and I'm the politits!"). Three women dressed as men (complete with cheezy mustaches). And a pretty damned good band!
Everything from alternarock to dark, moody stuff to all out punk, Team Dresch played it all and made sure that both they and the crowd had fun while they were at it. And when the vocal mics disappeared for a few minutes, the band improvised on "My Sharona" and some unnamed Earth, Wind and Fire tune -- which precipitated a "fight" on stage when half the band insisted they didn't know the rest of the song...
This was a lesbian band playing for a seemingly predominantly lesbian audience (and a lot of the stage chatter can't be reproduced, here), but the rest of us weren't left out. It's hard to pinpoint, sometimes, what makes a band enjoyable to see live, just for the performance's sake. Whatever it is, Team Dresch seem to have it. Good choice for a headliner.
And a great show!

You'll have the chance to listen to this concert on CBC Stereo's RealTime (105.7FM in Vancouver). It will be their live concert feature some Saturday night late in February.
---
First published in Drop-D Magazine on November 29, 1996
Index | Search | E-mail | Info | Copyright

Considering copying some of the images from this story?
Please read this first. Thanks.