Psycho Idols Take Gate
Psychomania
with The Idols and Cove
The Gate
Vancouver, B.C.
Saturday, January 4, 1997

Review by Darren Kerr
Photography by Dan Zubkoff
---

This was a good night of skinny torso, tight-trousered tunes with gobs of punk attitude and new wave nuance.

Openers Cove must have sold their souls to some divine deity to get the crowd they had. When they started there were quite a few people in the club, and almost all the tables were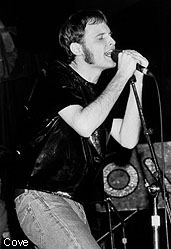 full, but three-quarters into their set the place was just lousy with people, and Cove's take on pop angst was well received by many of the beautiful people. The band was tight, playing music that was bass heavy with a good grasp of offbeat. The vinyl-shirted singer sounded a wee bit like Radiohead's Thom Yorke, but with a voice that could turn nasty and bite you. On stage he was in his own world, sometimes singing hunched over like he'd sustained a rabbit punch. After a while the songs started to wear on me, but overall a good opening band.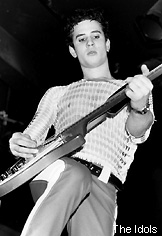 Leggy Mountbatten, manager of the Rutles, once said that the trousers make the band, and I think it was Bebe Buell who declared that tight pants are punk rock badges. Well, the Idols' lead singer/guitarist had not only constricting red punk rock badges, but also the shirt made from Grandma's lace curtains. Remember the band that played before Cheech and Chong's band Alice Bowie in the stoner classic Up in Smoke? The Idols reminded me of them. Three people playing disjointed punk wave in a style that would have been right at home in the heyday of the Mabuhay Gardens or the Peppermint Lounge.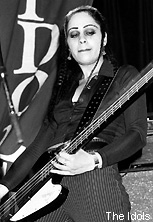 I didn't think I was going to like the Idols, but they quickly won me over with their surprising chord arrangements, rolling octave bass lines and staccato drum beats. They even threw some reggae, discordant pop and even mellow interlude into the mix. The singer had a strong voice whether he was barking or crooning, and he had definite visual presence. Plus, there's something sexy about a pretty, confident woman playing a Thunderbird. A very enjoyable band unhampered by such things as precision and contrivance.
Next was Psychomania. Leader Marc Godrey and (I think) a relatively new band worked way hard to win over a suddenly passive crowd with their B-movie rock and roll. They started off strangely enough, with Godfrey offstage while the rest of the band played a surf swing instrumental. Godfrey then arrived onstage and they broke into a basic blues number.
The band played lots of stuff from their CD, Rebel Set: "Robot Sex Monster," "Elvis in Wonderland," "Robot Bride-to-Be" and "I've Created a Monster," among others. In the middle of "Blue," Godfrey sounded off against heroin; speaking of past friends, he exclaimed, "I've seen talents wasted before they could taste it." He dedicated a new song, which I'll call "Crack Baby Crack," to "all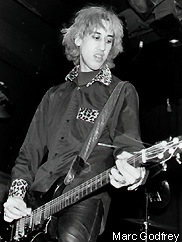 the aspiring actors and actresses, all the starving artists and musicians, and anyone who's tried to do anything in their lives, 'cuz it's not about your talent but who you suck and how you suck." When Godfrey sang of being "the greatest lover in the world" and about how "women love me from coast to coast," some good-natured hecklers (friends?) shouted out, "Where are all these women, Marc?!?"
The musicianship was fairly tight. The only evidence that there are still bugs to be worked out in the new band was to be found in the keyboard intro to "I've Created a Monster," where there was a problem finding the right tempo. The only other problem is with the similarity of the songs; however, in order to criticize them on this point, you would have to point fingers at the genre itself. The lead guitar player had chops to burn, and where there were solos, they fit the song -- wankery was never even an option.
To summarize this evening, a large crowd experienced three totally different bands that fit OK together. Much merriment ensued and a good time was had by most. Where were you?
---
First published in Drop-D Magazine on January 11, 1997
Index | Search | E-mail | Info | Copyright

Considering copying some of the images from this story?
Please read this first. Thanks.