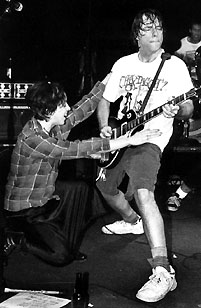 Almost as Fun as Playland
The Sweaters
with 2% Cherry, Panic Squad and Afro Whitey
The Starfish Room
Vancouver, B.C.
Thursday, January 9, 1997

Review by Daniel Ewacha
Photography by Paul Clarke
---

Afro Whitey (or 'Nancy,' as I like to refer to them -- you know, the comic strip character?) opened this evening's festivities at the Starfish with a great, powerful set in which the music covered a wide range of genres, including blues, punk, rockabilly, pop, and your basic roll 'n' roll, in a R.E.M./Clash/Catherine Wheel sort of groove.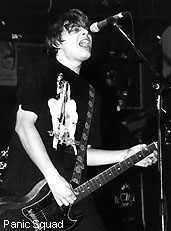 The band proved capable of adding that vibrant bit to the music scene that is displayed so rarely in Vancouver these days by actually performing on stage and refusing to act like cardboard cutouts. Being fun to watch and playing good music make for a winning combination and Afro Whitey seem to have a good grasp of this concept.
The best way to describe this evening would be to compare it to a roller coaster ride: Afro Whitey were the ride to the top, full of anticipation, with a pause at the top, the climax, to let the listener enjoy the view. Then the steep drop back down to the bottom, and that's where Panic Squad comes in.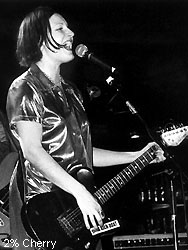 Despite the fact that this was the band's first show (though I'll bet that each member of the trio has played in other bands), I refuse to go easy on Panic Squad in this review. 90's punk is over and out! If you are playing this type of music for the sheer enjoyment of it, fair enough. But if it's out of sheer laziness, or reluctance to try something different or new in hopes of making a quick buck and some free beer, then please stay in your basement. 'Nuff said.
Continuing with the roller coaster metaphor, 2% Cherry would be the level bend after two or three highs and lows. Not overly exciting, nor dull, but with enough anticipation over what may happen next. I'd heard their name before and was looking forward to their set. Despite discovering the drummer was left-handed (we're a very rare breed), I was still a bit disappointed with the performance as a whole, especially after hearing all these good reviews on this band.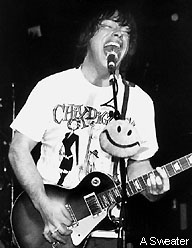 Their power-pop/new age vibe à la the Breeders meet the Cocteau Twins failed to leave a great impression, but the potential they exhibited was pleasing in the sense that, given more experience, they could eventually become one of Vancouver's better groups. The tenacity they displayed at the beginning of the show by carrying on after they blew an amp, and the self-promotion they undertook by handing out stickers at the end of their set were also good indicators of their desire to become a really solid band.
The Sweaters, despite playing pretty much the same type of music as Panic Squad, do receive a good review, if only for the fact that they were entertaining, and, above all, fun to watch. The music and generic lyrics are an acquired taste, but the reality of three late-20's/early-30-something guys going ballistic with their instruments, hamming it up for the crowd, and basically having a great time on stage, made for a memorable show and the last crazy hill on our roller coaster ride. It was one of those rare moments where the music took a back seat to the performance.
---
First published in Drop-D Magazine on February 1, 1997
Index | Search | E-mail | Info | Copyright

Considering copying some of the images from this story?
Please read this first. Thanks.