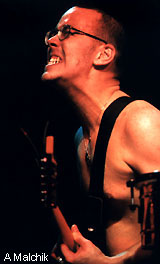 And on the Seventh Day, God Said "Screw It, Let's Rawk."
Change of Heart
with the Malchiks
The Town Pump
Vancouver, B.C.
Sunday, March 2, 1997

Review by Paul Watkin
Photography by Suzanne Goodwin
---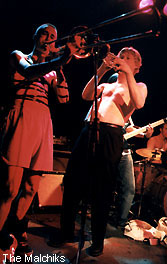 For many, a "super Sunday" would be a glorious day filled with over-hyped beer- and potato chip- selling sporting events. Ah, the yanks can keep their stupid bowl: going out and participating is inherently more fun. For those who love music and fun, today was indeed a super Sunday: the Queers were playing in North Vancouver, Mecca Normal were part of a Freedom to Read show and Change of Heart were at the Town Pump. That's a tough call, but... it's off to the Pump!!

The Malchiks received the call to open up for Change of Heart just hours before the show, so rushing over from the Thunderbird Lanes, where they had opened up for the Queers, this tired and wired ten-piece crazy ska outfit set up and just jumped into it. There weren't enough handfuls people to put in a box of Raisin Bran, but the Malchiks weren't going to stare at an empty dance floor all night, so the two frontmen frequently jumped down to flail and skank away, managing to fill the floor of the Pump all by themselves. A noble feat to be sure. The craziness never ended, with half of the band stripping down to their skivvies to complete the rest of the set. It did, however, raise the question "Why is that horn player wrapped in electrical tape?"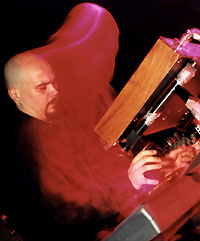 The band stated their loathing for the mightiest greediest duck, Michael Eisner, and paid tribute to Walt Disney by fusing "It's a Small World" with Rage Against the Machine's "Killing in the Name" (You know, "Fuck you, I won't do what you tell me."). Too cool. The percussion driven Malchiks repertoire did start to wear a tad thin by the end, but their showmanship and presence didn't, thus entertaining those who arrived early enough to catch them.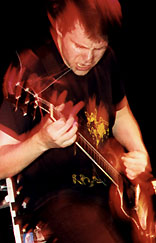 During the break between bands, the numbers in attendance began to climb and I noticed that the house music was taking on a kind of underground hip-hop spacey feel to it. Looking to the stage I noticed it was Change of Heart keyboardist Bernard Maiezza who was laying down these sounds, creating an attentive atmosphere that acted as a creative introduction to the set that lay directly ahead. The rest of Change of Heart eventually climbed on stage to join Mr. Maiezza and, without missing a beat, they immediately began a set of straight-ahead aggressive rock, layered with the unique, manic soundscapes that make Change of Heart sound like no other band.
On tour to promote the forthcoming release of their new album, Steel Teeth, they treated us to a taste of what is to come and, by the sounds of it, what is to come is one incredible album filled with nothing but in-your-guts rock songs.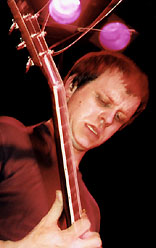 Displaying a humility and a reluctance to be in the spotlight, the band's new bassist, Rob Higgins, disowned their current single, "It Should Be," calling it a cover, while singer/guitarist Ian Blurton mockingly sent out three-fingered rock salutes sporadically, displaying an un-mainstream rock attitude. Though the attitude was un-rock, the music thoroughly was, and they reached back and played a couple of tunes from Smile and a number from their last album, Tummysuckle, including "Circle of Season," "Herstory" and "3 Word, 4 Letter."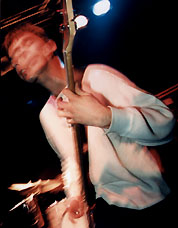 Higgins and drummer John Richardson combined for one heavy rhythm section driving the songs along, while Blurton flailed away on his guitar and Maiezza rocked back and forth, feeling the sounds emanating from his board. They just seemed to attack every song -- evidenced by the blood oozing from Blurton's thumb and the woodchips flying off of Richardson's drumsticks as they hit the cymbals and hi-hat.
With seemingly limitless energy, Change of Heart bounded about, raising the sweat factor with every song and leaving the impression that when it was over, it was over too soon. But it was Sunday, after all, and as Blurton put it, it was "not bad for a Sunday." Yep, not bad for any day, actually.
---
First published in Drop-D Magazine on March 15, 1997
Index | Search | E-mail | Info | Copyright

Considering copying some of the images from this story?
Please read this first. Thanks.