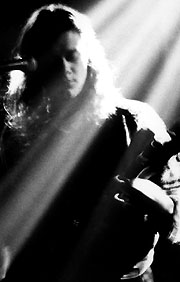 Where's Call Return When You Need It?
Star 69
with Melt and Hades Day
The Starfish Room
Vancouver, B.C.
Saturday, March 1, 1997

Review by Suzanne Goodwin
Photography by Brian Kraus
---

As my footsteps echoed around the room, I realized I needn't have rushed to find a comfy seat for this evening's performance. Original headliners Space had cancelled, and now there were just too many seats to choose from and the whole place felt asleep. But that doesn't automatically mean those present were in for a lackluster evening of musical entertainment -- or does it?

First up was Hades Day, a local band that was apparently appearing live for the first time ever. Oh the pressure! And in front of a rather apathetic audience too... but despite some big lulls between songs they pulled it off.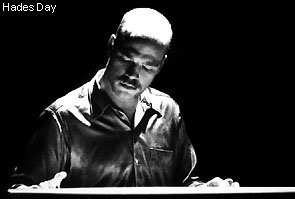 Hades Day's bar cover band look suited their somewhat psychedelic metal rock style, and the addition of some very funky lights and mist completed the package. Their sound was surprisingly good, with the band making the most of their guitars and keyboards, and often not using a bass at all. I had the impression Hades Day had worked hard to achieve this all -- but also that they'd forgotten to work the vocals, which were begging for air in the mix and completely lacked depth. Flat outright wailing didn't really cut it, but a few more gigs and who knows?
So after trippin' back in time with Hades Day and a heck of a long between-band wait, we were eventually pushed into the future with Vancouver's own Melt. Most definitely the most original and entertaining of the three groups tonight, Melt have a cosmic almost Euro feel with ghoulish undertones.
Between a freaky little Addams Family-wannabe drummer who liked to chew on his sticks, to keyboards not so much played as used to create steroid-laden tweety-bird sound effects, Melt woke up the still spartan crowd and didn't let the lack of patrons dissuade them from an energized and inspired -- albeit surreal -- performance.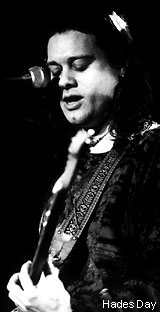 I did find their sound a little too cohesive, in that overall individual songs didn't really stand apart from each other, and that their set lacked overall polish. Still, hints of funk and Kula Shaker-ish vocal stylings coaxed a few humans out onto the dance floor and things seemed to be picking up a bit, the energy increasing only to come to an abrupt end after Melt's finale, a spacey cover of the Stooges' "I Wanna be Your Dog."
After another eternal wait from Hell, I half expected L.A.'s Star 69 to be some sort of really hot band. They had the el slicko promo posters, featuring a big expensive looking light-me-up logo on a sign, and a serious-looking burly road crew that wasn't letting any notes get played until the stage setup was nothing short of perfect. So, when Star 69 finally sauntered onto the stage at 1:00 am [ed. By which time our photographer had left for the last SkyTrain... hence no Star 69 photos!], their indifferent manner took me a bit off guard.
True, people had actually left the club already, and that's discouraging for any band; but, hey, whose job is it to get the word out anyway? Ultimately the strength of the performance is what most will remember, but I don't think Star 69 have quite figured that out, yet. Singer Julie Daniels made the comment "... it's too bad you don't know any of our songs... " Should that matter? Whether or not I know who the band is or what songs they sing, it's the band's job to make me take notice and remember.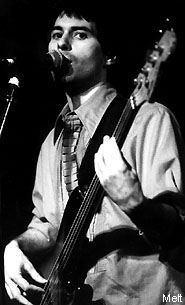 Anyway, musically Star 69 were a sort of drawly pop with heavy guitar and slightly pervasive folk occasionally poking through. Not unpleasant, but not particularly inspiring, although I suspect their tunes probably carry more punch under more inspired circumstances. The flashy string bending from blondissimo-haired, black-clothed guitarist Richard Corden completely buried the mellow acoustic strumming of singer Julie. She had a Tom Petty mellowness about her, but her little-girl, somewhat folky vocal style was just a really weird combination.
It was like this band was someone else's idea and each member was chosen without regard to musical compatibility. And, now, here they were, left alone to face Vancouver's unforgiving music public, without the charisma and (apparently) the seasoning to pull up their socks and get on with it. After a scant 45-minute set, they packed it in with no one screaming for more.
Maybe if Julie Daniels lost the band and stripped her songs down to a more simplified arrangement where they might shine, there'd be something memorable there. Unfortunately, right now the only thing slick about this band is their poster.
---
First published in Drop-D Magazine on March 15, 1997
Index | Search | E-mail | Info | Copyright

Considering copying some of the images from this story?
Please read this first. Thanks.