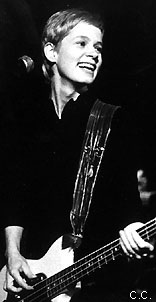 A Women's Night to Remember?
Fluf
with Sparkmarker and Maow
The Starfish Room
Vancouver, B.C.
Saturday, March 8, 1997

Review by Darren Gawle
Photography by Rodney Gitzel
---

Ironic (isn't it?) that on International Women's Day we should find ourselves down the Starfish Room celebrating yet more Caucasian boyrock. As I wait for the show to begin, one of the discs on the venue's CD player features a sample from some old educational film, one which begins with the sound of a rather obnoxious lawn mower. When the mower stops, an adult male voice asks: "loud, isn't it?" to which a boy replies "yeah, it's like being hit over the head with a stick!" More of this later.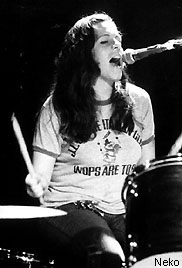 Maow. To quote C. Montgomery Burns: "I know what I hate, and this... I don't hate." Maow takes advantage of this occasion to champion International Women's Day by lyrically baiting those sad, irritating guys who follow women around in bars, trying to pick them up using shite lines like "If I'd known you fifth grade, I'd have carried your books for you." Guys who like to think they're suave like James Bond when they're crap like Herb Tarlick; guys who... hey, wait a minute, they're singing about guys like me!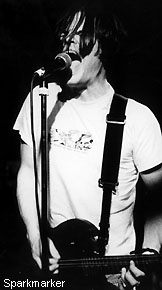 Anyhow, a false start results from drummer Neko's recurring trouser problems, bassist C.C. fluffs the words to "Very Missionary" (which includes the classic "Your songwriting is flaccid / Your covers give me fits / Oh, Eric Clapton, you're the shits") and Tobey attempts the worst guitar solo in the history of western music during new number "Just Fine." When Maow do hit their stride, however, as during "Rebecca Lash," they live up to their Nancy Sinatra vs. the Cramps reputation as conveyed in their fine debut disc The Unforgiving Sounds of... As it turns out, they remain engaging enough to make me wonder what the hell the controversy about their Shindig win a couple years back was all about. Maybe Herb Tarlick wrote the review...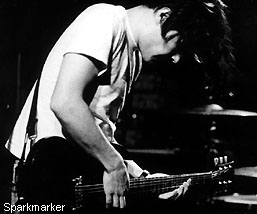 Let it be known that Sparkmarker (Vancouver's patron saints of the all-ages show) are here this evening, and they have a point to make. No, I don't think you understood me: they are HERE and they have a POINT to MAKE. Sparkmarker are as subtle as a Soviet artillery strike, and about as tuneful too. Now, before someone associated with the band tries to pull a Noise Therapy on me, I'm not saying they suck. Few bands anywhere have the conviction to play it like they mean it the way Sparkmarker do; and, with the amps at eleven, songs like "Chrysanthemum" deliver the sonic assault that they should. The problem is that Sparkmarker's take on Rollins-esque chugga-chugga-rama means that most numbers blur indistinguishably into each other, and tonight the likes of Nick Drake have never seemed so dead, buried and sorely missed. "Nick who?" I hear you ask. My point exactly.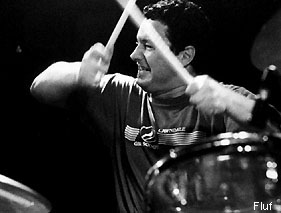 It's a pity that the Fender guitar company tends to pursue more established and traditional musicians to endorse their instruments (the aforementioned Mr. Clapton being a prime example), because they're missing out on the rare brand loyalty of San Diego's Fluf. Fluf's frontman, 'O,' is partial to Fender Stratocasters the way Shi'a Islam is partial to the prophet Mohammed. (So much so, in fact, that one of Fluf's songs is a heated backlash against the Supersuckers and some of their anti-Fender sentiments.)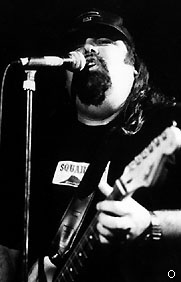 With a set peppered with selections from their major-label debut, Waikiki, Fluf show that they've clearly set the controls for the heart of planet power-pop. Problem is, their infinitely more melodic new songs expose the sub-Nirvana grunge of their older material. And speaking of Nirvana, is it in good taste to write a song which O introduces as being about "how lame it is to be a heroin addict" and set it to a tune too close for comfort to "Aneurysm"?
Despite moments which approach the brilliance of Sugar, it becomes apparent that Fluf will spend parts of their set walking the thin line that borders bad taste; for example, playing a song that compares women to chocolate while a posse of drunken frat boys pummel all and sundry in the mosh pit. (That girl you elbow in the face is going to have an International Women's Day she'll never forget, eh guys?) The show also went out with a soggy fart, rather than a bang, as Fluf attempt a half-assed cover of "Back in Black" which peters out inconclusively after the first chorus.
Fluf make no bones about their love of Vancouver (apparently the ready availability of over-the-counter Codeine has something to do with it), so you can count on a return visit in the near future. With some luck, Fluf will have more new-direction material and a less ironic date to perform it on.
---
First published in Drop-D Magazine on March 24, 1997
Index | Search | E-mail | Info | Copyright

Considering copying some of the images from this story?
Please read this first. Thanks.