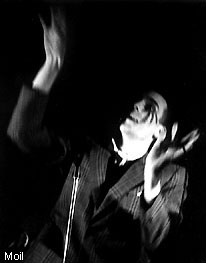 Let Loose the Old Farts!
Pluto
with The Malchiks and Thrill Squad
The Metropolis
Surrey, B.C.
Sunday, February 23, 1997

Review by Darren Gawle
Photography by Paul Clarke
---

"All ages." To the majority of twentysomethings like me these days, these two words may as well be a euphemism for "no admittance over the age of twenty." Think about it: how many people whose birthday predates the year 1977 did you see at your last all-ages show (performers not included)? Come to think of it, when was the last all-ages show you went to?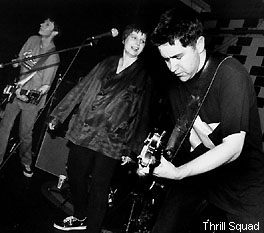 Perhaps this epidemic of all-ages-o-phobia stems from a reluctance on our part to be reminded of an age we'd rather forget (Do I want to remember having greasy hair and acne? Probably not.). Perhaps it's because of the alcohol-free environment (as if that should stop you from tanking up in the parking lot beforehand). Or perhaps the enthusiasm shown by the Kids, their genuine applause at the end of every opening act's set and their untainted sense of what constitutes a good time reminds us of what a bunch of boring, jaded old farts we've managed to become.
Anyway, the first act set to ram a platform go-go boot up our ass this evening was supposed to have been Fluffy, but they cancelled. (A gig in Whalley or a video shoot in Florida -- well, which would you have chosen?) More's the pity -- I was looking forward to how they planned to execute their thunderously mediocre debut album in a live setting. All was not lost, however,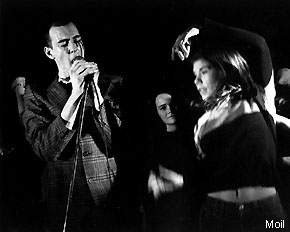 with a fine opening slot by Vancouver's own Thrill Squad. Power-pop being the order of the evening, Thrill Squad came across as the cool aunt/uncles you're supposed to have; the ones who take you to your first hockey game, sneak you your first beer, or take you to your first all-ages show. In a word -- fun.
Did I just say that Thrill Squad were fun? If that's the case, then the Malchiks were FUN. Yes, that's FUN with a capital F for FUCK YOU! This band serves up ska on a bed of psilocybin mushrooms, and the effect is in no small way due to the riveting presence of singer Scotty Moil. Imagine Pee-Wee Herman auditioning for the parts of both Renton in Trainspotting and Alex in A Clockwork Orange at the same time and you'd get the general idea. Beginning with a piss-take of Pluto's "Paste" while Moil wandered the stage with a bicycle helmet over his face like some deranged robot, the Malchiks' set quickly accelerated into a free-for-all.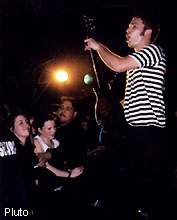 The idea of fun was certainly not lost on the dozen or so audience members invited on-stage for a cover of "It's a Small World After All" (well, except for the goth chick who just stood there and sneered at everyone.) "I never really appreciated life until I appreciated my feet," noted Moil afterwards. I never appreciated ska until I appreciated the Malchiks; bets on local talent don't come much safer than this.
This show proved to be the last time for a while to see Pluto, as they'll be on the road for the next three months with labelmates Fluffy. Thus Pluto treated their set as both a pre-trip warm up and as their own private going-away party. "We were kind of rusty," admitted singer/guitarist Ian Jones later, "we were really just playing for ourselves." Gee, he says that as if it were a bad thing.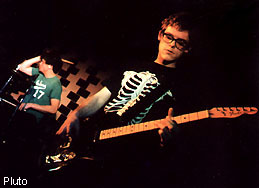 Fun, once again, was the operative word, and there are few people who seem to glean as much enjoyment out of playing live than Jones and co-vocalist/bassist John Ounpuu. Case in point: how many bands even think about covering E.L.O.'s "Baby Do You Want My Love" and Queen's "Sheer Heart Attack" ? Even the underlying lyrical bitterness of songs such as "Regenerate" and "Failure" can't stand up to Ian's perpetual grinning and John's between-song cracks from the peanut gallery. And, as a unit, Pluto deliver a turbo-pop assault to which their major-label debut disc simply doesn't do justice.
All ages shows? Only a boring old fart worries about what a boring old fart he/she's become. Hey, forget the bullshit about growing up -- grow down for once.
---
First published in Drop-D Magazine on March 24, 1997
Index | Search | E-mail | Info | Copyright

Considering copying some of the images from this story?
Please read this first. Thanks.