Anti-Rock Anti-Dotes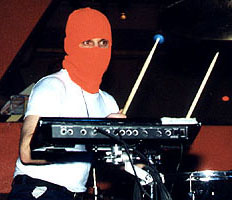 Helen Keller
with Ottobon and Fluid Ounce
Graceland
Vancouver, B.C.
Saturday, April 5, 1997

Review by Darren Gawle
Photography by Rodney Gitzel
---

Now here's an interesting concept: the dual-venue show. Certainly, this has been tried before (e.g. San Francisco, 1966, where you could have caught a shuttle bus across town from a Ken Kesey acid test to see the Jefferson Airplane at the Fillmore), but why it isn't attempted more often is beyond me. Probably it's too much of an organizational juggernaut for your average promoter to deal with, so hats off to promoter Jason Grant for having the gumption to even think of attempting tonight's all-local rock/anti-rock dual-venue extravaganza.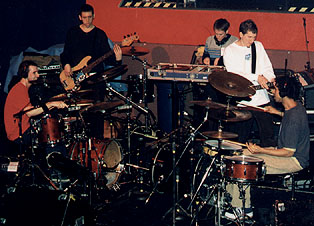 Graceland is home to the "anti-rock" side of tonight's festivities, and the show immediately falters due to a faulty mixing board. Not that a replacement hasn't been found in time, but opening act Fluid Ounce's set turns into the soundcheck for the entire show. Thus we get sound levels that go from loud to muffled and back again, while the bass guitar remains some vague rumbling in the background. A local two-piece (a drummer and a bassist/programmer), Fluid Ounce has also suffered technical difficulties in that their four-track packed it in two days previous to the show, so bassist Chris Carlson is left tapping out snatches of Santana's "Oye Como Va" on a small keyboard to add some spice to Fluid Ounce's drum-and-bass (but not drum'n'bass) stylings. A valiant effort, but considering that it was their first show, their reputation would certainly not have suffered had they canceled instead. Better luck next time, guys.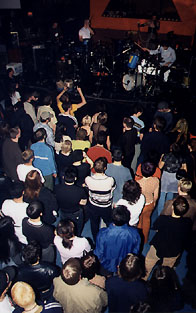 By the time Ottobon takes the stage, tonight's potential Achilles' heel of technical difficulties appears to have been cured (although rumour has it that the same cannot be said of the goings-on down at the Starfish Room, the night's "rock" venue). All systems are go, then, for Ottobon to blow a few minds with what could be described as "organic breakbeat." The organic element of Ottobon's take on breakbeat are their two drummers, seated front and center onstage -- an apt placement for them, as their attempt, live, at what jungle artists like Photek or Goldie take months to program on a drum machine proves to be the jewel in the group's crown.
Ottobon seem also to be a live example of that classic interview quote, "We make music for ourselves, and if anyone else likes it then it's a bonus." It's almost as if this is a jam session and we're all invited: the drummers chuck drumsticks at each other in the middle of songs, smirks are traded between the bassist (Chris Carlson, again) and the guitarist, and Ottobon are so wrapped up in the sheer joy of making music that the presence of an audience appears superfluous to them.
An extra-long wait ensues while Helen Keller sets up their gear, and this allows the audience to fill Graceland almost to capacity; it's evident that this is the band people are here to see. Helen Keller perform their opening number in dayglo orange ski masks, while their vocalist roams the P.A. columns in leather and tartan like some B&D highlander.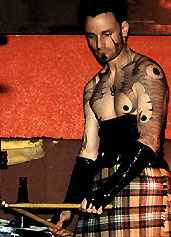 The band's music is rhythm-oriented, with two drummers (again) playing drumkits that have been souped up with items such as plastic water cooler reservoirs and mangled cymbals. Over the mainly tribal drum beats are layered all manner of keyboard washes, drones, samples and loops, while the vocals have been processed to the point of acting as but another instrument. Helen Keller are focused, tight, and they certainly put maximum effort into their performance, but yet something seems to be missing. Although they certainly haven't blown them off the stage, Ottobon have succeeded in stealing most of Helen Keller's thunder -- and without even really trying.
Perhaps that's the problem: a band can try too hard to put on a good show, and this is where Helen Keller falters, seeming more than a little over the top and not unlike a post-industrial version of Stomp. Still, these bands remain an original alternative to the standard-format punk, metal and indie bands that form the musical landscape in Vancouver these days. If there is an alternative to "alternative," we may well have seen the blueprint here tonight.
---
First published in Drop-D Magazine on April 25, 1997
Index | Search | E-mail | Info | Copyright

Considering copying some of the images from this story?
Please read this first. Thanks.