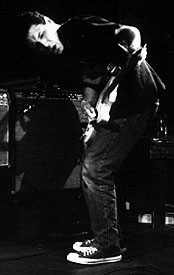 Throwing Out the Book on Pop Success
Yo La Tengo
The Starfish Room
Vancouver, B.C.
Thursday, June 5, 1997

Review by Marilee Breitkreutz
Photography by Rodney Gitzel
---

Experiencing Yo La Tengo live is a bit like eating peanut brittle: it doesn't look like it should taste very good, but when that first bite dissolves into crunchy sweetness inside your mouth, you can't help but become positively hooked. This trio from Hoboken, New Jersey has ignored the mandates of the How to Make It Big as a Pop Band manual, such as "costumes and on-stage antics are an indispensable component of the successful live act" or "it has been proven that an appealing or provocative image sells records." When they played to a sold-out Starfish Room recently, Yo La Tengo proved that, despite their nondescript appearance and presence, they can easily sustain the rapt attention of a live audience with their music -- a brand of pop which is rare for its combination of sincerity, maturity and originality.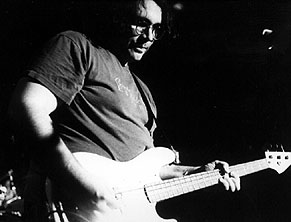 Calling a Yo La Tengo show a 'sonic experience,' though it would be slightly melodramatic, would not be inaccurate. Hypnotic stretches of their trademark sound -- waves of meticulously controlled feedback washing over moody keyboards and crashing drums -- give way in the next song to a pure, simple melody. Songs like "Sugarcube" and "Autumn Sweater" confirm Georgia Hubley, Ira Kaplan and James McNew as indie-pop virtuosos; mellow and meditative songs such as "Blue Line Swinger" and "Shadows" lull the crowd into pensive bliss, and more upbeat tracks like "Double Dare" and the newer "Deeper into Movies" have the audience bouncing. Playing quite a few songs from their latest release, I Can Hear the Heart Beating as One, the band also lays out an impressive smorgasbord of tracks from previous albums. The performance is marred only by the unfortunate fact that Georgia is on drum duty all night and her beautiful vocals are hampered either by poor sound or, more likely, by the difficulty involved in singing and playing the drums at the same time.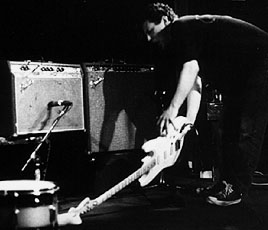 However, the Starfish Room audience is delighted and calls the band back for two encores before the show is over. Afterwards, the band sticks around onstage to chat with fans, well-wishers and hangers-on. Ira jumps off of the stage to talk to a fan who has a question about guitar gear, and James and Georgia are busy handing out autographs and smiles. Exceedingly accessible, throughout the show the band had interacted with the audience by taking requests and generally making us feel like we were not just fans, but guests at a Yo La Tengo rehearsal session. Then they staggered us with their incredible creativity, making us happy that we had only had to pay fifteen bucks to see them at work.
Certainly Yo La Tengo have improved musically since back in 1985, when John Petric of The Columbus Dispatch gave one of their first 7" releases the "AAA rating -- awful, awful, awful." Now many observers are touting them as the next pop sensations. What they certainly are is one of the most interesting and unpretentious bands around, and the perfect antidote for image-oriented-pop-sodden ears.
---
First published in Drop-D Magazine on June 20, 1997
Index | Search | E-mail | Info | Copyright

Considering copying some of the images from this story?
Please read this first. Thanks.