On a Queer Day You Can See Forever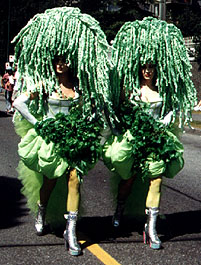 Gay Pride '97 - The Concert
with Randin & Band, Veda Hille, Sister C, Not So Strictly Ballroom, 10 ft. Henry, Tonja Livingstone and the Rainy City Gay Men's Chorus
Sunset Beach
Vancouver, B.C.
Sunday, August 3, 1997

Review by Darren Gawle
Photography by Rodney Gitzel
---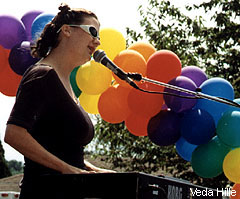 Maybe five or six years ago I wouldn't have been caught dead here (I'm a recovering redneck, y'see). But, hey, the sun is up, the sky is blue, the weather's beautiful and so are... a few thousand of Vancouver's beautiful people. Sexual politics and gay pride parades aside, the lowest common denominator at work here is the opportunity to spend an afternoon in the sun and have fun and enj... just what the hell is that???

Hey! It's a couple of guys in lime green dresses, silver disco boots and three-foot high wigs made out of green styrofoam packing peanuts, that's what. And over there -- jeez, if Divine weren't dead I'd swear that's her... mmm, more man than Preston Manning will ever be and more woman than he'll ever get!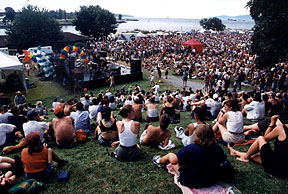 I'm wandering the crowd while Randin & Band warm up the audience. The sound is good, considering it's an outdoor stage, and the masses are starting to groove to a cover of Sister Sledge's "We are Family." The toilet facilities are not so good, with ten-minute lineups at any of them, but nobody seems to get uptight.
(T-shirt in the crowd: "On a queer day you can see forever.")
Veda Hille treats us to a three-song set on a piano and her four-string guitar (no, it's not a ukulele) and then it's time for some words of wisdom from Sister C. "Lemme hear y'all say amen! I said AMEN!! I said GAY MEN!!!" Sister C, along with emcee Diane Barbarash, also shows us the correct way for a banana to don a condom and gives us some fruity masturbatory advice -- cheers!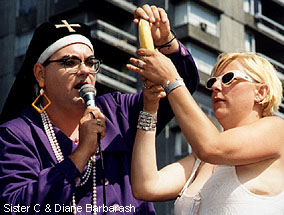 There are plenty of speeches, too, by MLA Tim Stevenson, MP Heddy Fry, Parks Board commissioner Duncan Wilson (even Joy MacPhail pops in for a break from the dull drudgery of electro-phallic prankery), and the music continues with Not So Strictly Ballroom. Can't quite see their modern interpretive dance from where I'm standing, but with that much bass in the mix, you can feel it right up the crack of your ass.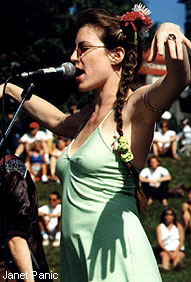 10 ft. Henry get the longest set of the day and prompt a group of dancing wimmin to doff their tops -- and for one brief shining moment it's the Golden Gate Park panhandle, 1967. Three-minute chunks of groove with a rhythm section that holds down the funk while vocalist Janet Panic nails it to the wall. Most white funk bands are embarrassing. 10 ft. Henry aren't.
(T-shirt in the crowd: "Coat me in honey and throw me to the lesbians.")
Tonja Livingstone brings us down gently from 10 ft. Henry's high with some Joni Mitchell-esque folk. The sun's fried us all by now and I'm wondering how some of the guys in the crowd can dress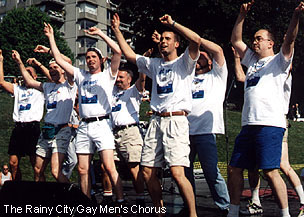 the way they are in this heat -- black 1920's cocktail dress with a feather boa, anyone? Respect.
Finally it's time for the Rainy City Gay Men's Chorus, and it's also time for the first major technical glitch as the power cuts out in the middle of "I Will Survive." The guys carry on through "Love Shack" and (wait for it...) "It's Raining Men," and, with the crowd mostly gone now (hey, it's been a long day), one last group photo is taken by Barbarash.
A day in the sun, music that celebrates life, and men who know what colour-coordination is. What are you so afraid of, Surrey?
---
First published in Drop-D Magazine on August 16, 1997
Index | Search | E-mail | Info | Copyright

Considering copying some of the images from this story?
Please read this first. Thanks.