Therapy for Boys and Girls and Thugs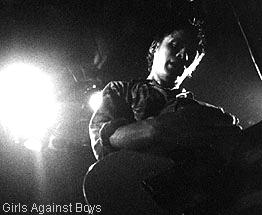 Girls Against Boys
with Therapy? and Les Thugs
The Starfish Room
Vancouver, B.C.
May 9, 1996

Review by Daniel Ewacha
Photography by Rodney Gitzel
---

There was an obvious international flavour consuming the Starfish Room last Thursday night. Les Thugs from France, Therapy? from Ireland and Girls Against Boys from the U.S.A. put on the Olympics of rock and roll shows and left victorious with the gold medal hung around the necks of their respective guitars.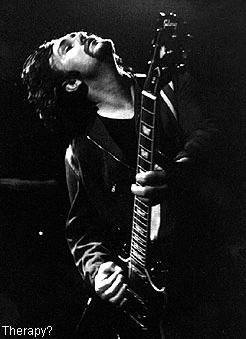 I had never heard of Les Thugs before this show, but was quite impressed with this quartet from the south of France. A very tight and exciting, yet somewhat cheesy, sound was produced and seemed to intoxicate everyone in attendance as Les Thugs opened the show to a less than receptive crowd. But Les Thugs soon conquered the curious audience, myself included, and won the war that would have had other bands waving the white flag. With piercing, raunchy guitars and steady drumbeat passing through the speakers, it was hard to make out the lyrics. A person would have had to speak French to understand them anyway, as half the set was sung in their native tongue. Les Thugs proved to be the best thing to come from France since French kissing and, personally, I can't wait for them to come back.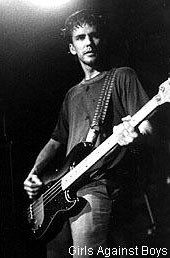 Next up on the bill were Belfast's own Therapy? This was the band I came to see, being a huge fan. Touring in support of their third disc, Infernal Love, Therapy? quite simply kicked ass! From the opening chords of "Punishment Kiss" to the scorching sounds of "Screamager," Therapy? drove the crowd of the curious and the devoted into an adrenalin-induced mosh session with yours truly instigating it all. Yes, I admit it, I was the one going ballistic in the front. Therapy? did not disappoint, although I felt that the first time they were here with Swerve Driver two years ago was an even better show. The set list last time around consisted of Therapy?'s best songs done to perfection, whereas this time they played more contemporary tunes, selections from Troublegum and Infernal Love,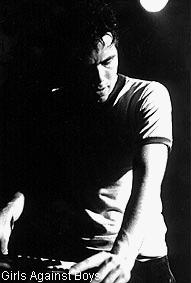 almost completely ignoring their earlier material. No matter. The crowd showed their respect and admiration for the boys and Therapy? won themselves a new bunch of followers, as well as securing ties with the old ones.
After two great performances, Girls Against Boys had their work cut out for them, but ultimately rose to the challenge and impressed the crowd with their low-end power driven assault of the musical persuasion. The band's two bassists didn't surprise me -- but I was rather surprised to find a guitar in the band. It was quite apparent as to who the crowd came to see and for the next 80 minutes they got their fill. Girls against Boys closed the evening the way it was meant to be -- stellar.
---
First published in Drop-D Magazine on May 16, 1996
Index | Search | E-mail | Info | Copyright

Considering copying some of the images from this story?
Please read this first. Thanks.