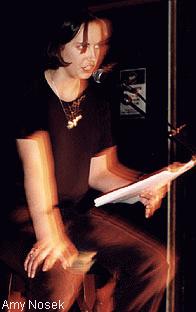 I Got Those Lowdown Literary Blues
Literary Blues '96
The Yale
Vancouver, B.C.
April 24, 1996

Text by Michele Martin
Photography by Suzanne Goodwin
---

As any blues fan will tell you, "the blues" is more than just a particular musical genre -- it's an attitude and, some would even say, a way of life. That attitude was evident in the spoken poetry, prose and dramatic pieces that were presented throughout the 1996 Literary Blues fund-raiser at the Yale Hotel. The readings showcased the talents of several local writers, representing four acclaimed Canadian literary publications including The Capilano Review, West Coast Line, Canadian Literature, and sub-Terrain. A local blues act, the Wailin' Walker Band, provided the musical accompaniment.

According to the press release, the purpose of the evening was "to increase awareness of the role literary magazines play in developing culture in Canada and to highlight the need for increased funding in the arts." The press release also stated that the literary event at the Yale "will also show how artistic disciplines -- in this case literature and music -- can mingle and enhance each other." And, it was fascinating to hear "the blues" in written, or perhaps I should say, spoken form.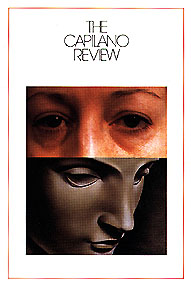 Emceed by Bookworld's Alan Twigg, the evening began with a reading by poet John Donlan, quite excited to be able to tell people "I did a gig at the Yale." Reading poems from Domestic Economy, Donlan focused on the way history is interpreted so as to affect the present and, inevitably, the future. In a poem appropriately entitled "The Past," Donlan describes the process wherein we change the past to allow us to live with the present: "Doctoring history is one way we keep the present manageable." Reading from his second collection, Baysville, from a poem entitled "Tough Enough" (which he described as a loose translation of his family crest) Donlan proclaimed the powerful line "You're there for them although you prefer the company of plants and animals."
Lydia Kwa presented next, entrancing us with a reading from her novel in progress, This Place Called Absence. Fitting in with a common blues theme of the unavoidably harsh realities of life, This Place Called Absence relates the story of two prostitutes, one at the turn of the century, and the other in current times, in a monologue of a young girl sold into prostitution "for the price of a sack of rice." Kwa also read lyrical snippets describing her memories of growing up in Singapore, vivid with the "colours of the people and streets." Kwa's works build on the themes of bodily and moral decay and spiritual immortality, fitting in well with the blues genre.
Bud Osborn, a writer of poetry and prose, read his powerful poetry about the Downtown Eastside, "dedicating it to people who live where I live but who won't live through the night -- down here" Osborn spoke passionately of the down side of blues, the down side of life, wherein people linger in "jaws of rabid doorways," "smelling and looking like death," and "caged in hotel windows of desperation." His stark images held us captive as he continued with a reading from Lonesome Monsters: "petty sneak thieves selling pieces of themselves, creating a purposiveness out of a daily nothingness." Osborn's vivid descriptions conjure up images of the blues in the futility of humanity as he tells of people, "pissing their lives down the front of their pants."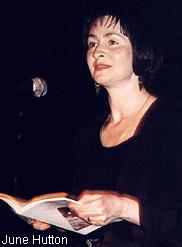 On a lighter note, local teacher June Hutton read an excerpt from her short story, "Total Eclipse of the Sun." Hutton's humourous piece captured the lighter side of the inevitability of death as she relayed a macabre tale of touring a museum dedicated exclusively to the dead. She also presented from her current work in progress, Next of Kin, a somewhat foul-mouthed novel dedicated to her Aunt Pat. Next of Kin captures a common thread in the blues genre, that of waking up hung over in a strange place with even stranger people, but from a women's perspective: "How do you know which way to go when you don't know where you are?"
Wayde Compton, an African Canadian poet and activist, spoke about where he positioned the blues in his life, a position he described as "McCluhanistic blues." In a cutting piece entitled "Surgical Strike," Compton vilifies Canada as "Uncle Sam's white trash cousin" and describes our relationship with the U.S. as one of "culture vulturism," encouraging us to "strike the fuse of what was once blues." In "The White City Revisited," the signposts of white culture are ridiculed, "where 911 passes for mystic numerology." Compton blends his brand of articulate social activism effectively with humorous, anarchistic and graphic images to bring his vision of the blues across to both his listeners and his readers.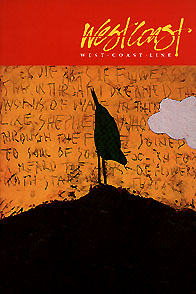 Up next, another powerful, and disturbing, piece. Reading from Bernie Stapleton's visceral one-actor play, Offensive to Some, Amy Nosek managed to make my skin crawl simultaneously with empathy and disgust, playing the role of a women who kills her children after years of emotional and physical abuse and torture by her husband, whom she also kills. In one particularly gut-wrenching passage, the abused wife describes her feelings of what it was like, waiting for her battering husband to turn into a monstrous werewolf: "Just hit me and get it over with." This blues theme of futility was in marked contrast to the woman's strong words at the end, which gave me goosebumps: "I'm in charge now."
Unfortunately, I missed most of local novelist and short story writer Grant Buday's funny piece about a downtown Vancouver hotel and the persons whose lives revolve around it. But what I did hear reflected the blues themes of surviving in difficult times, and the diversity of human experience.
The last of the evening's performers, Crystal Hurdle, an English instructor at Capilano college, read from several of her poems. Two of the more memorable lines included, from "Aqua Velva," "I became wrapping paper thin in the vice of adult deviousness," and, from "Because," "Your eyes impale me to what's behind."
The readers each presented pieces which interpreted their understanding of the blues genre into literature, and did so quite effectively, and all were eminently listenable. Some relied on graphic, stark and even violent imagery; others relied on humour and touches of the macabre. Still others reflected on the vulnerability,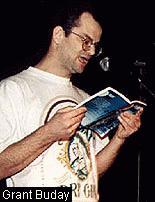 futility, and inevitability of the human condition, as well as the transcending and redeeming qualities of companionship, spirituality and survivorship. If you would like to read more of their work, check out any and all of the literary publications mentioned above, as I did. The quality of writing is stellar and deserves to be acknowledged, and lauded for its recognizably Canadian tone and flavour. So, get out there and support this distinctly Canadian culture -- as well as your local writers.
Following the spoken performance, we were entertained by the musical stylings of a local blues group, The Wailin' Walker Band. Consisting of Mark Ibarra on drums, Bruce O'Neill on bass, Steve Hilliam on saxophone, Daryl Havers on keyboard, and frontman Al Walker himself on vocals and guitar, the Band put on a lively show peppered with the "rocking rhythm and blues" and "rootsy" music which characterizes their music. Playing to a full house, the Wailin' Walker Band provided lots of great dancing tunes to an appreciative and receptive crowd.
Fitting in with the theme of expanding the blues genre, I spoke with Al about his perceptions on the relationship between blues in music and in literature: "Well, of course, there's the connection of the lyrics in the music that we do, which is right there and a lot of the lyrics we have in our own songs are based on true life experiences, and rambling around trying to get away from drug use and relationships, and things like that, typical things. I always find there's only so many things you can really write about. There's only so many guitar licks, there's only so many things you can play and do, so I think the link directly is the soul. I would say, just generally -- the soul leaks out."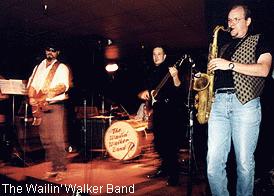 Al offered his thoughts about the powerful effects literature and music can have on the reader and listener: "I think when somebody moves somebody else in literature, reading something that moves you is because somebody is shedding something or telling them something or opening up or opening somebody else's life up to the reader and I think music works the same way. Blues is the obvious thing. Blues is so misconstrued, it's not even funny. It's like people go, "Oh, they're a blues band, well we don't really want to go dance waltzes and cry all night," which is nonsense. People come to -- it's also a joyous kind of music, it's a party kind of music -- that's what we try to attain."
In discussing what was important in his life right now, Al described his relationship with his eight year old son: "He's reading like crazy...now he's going into comic books. And tonight, just before leaving, he'd ran out of comic books and all his Goosebumps [a children's book series] were all read so I said, "Why don't you read an actual novel on something?" so I gave him the book Deliverance and he looked at the first page and read it and said, "Yeah, I can read this, this is easy" and he took it upstairs."
I asked Walker what he would say if his son asked him how the blues fit in to what he was reading at any given time: "Well, it's everywhere because if Spiderman runs into a problem with his web, it isn't working properly; suddenly he's thrown into a troubled situation. In reading Deliverance, he's definitely going to run into a troubled situation or two there. Every story has got to have its ups and downs. It's like music. It starts out, it builds up to something, it has a crescendo, and drops down, and then takes the listener up and down, it takes the reader up and down. Songs are very similar to novels. Well, that's all that songs are -- they're short stories -- very short poignant stories."
---
First published in Drop-D Magazine on May 16, 1996
Index | Search | E-mail | Info | Copyright

Considering copying some of the images from this story?
Please read this first. Thanks.