Rock, Roll, Row Your Boat...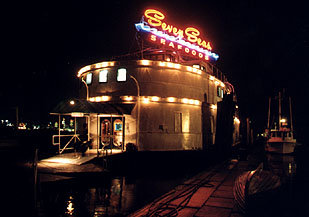 Dorothy Missing
with Suzanne Wilson
The Portside Room
North Vancouver, B.C.
Thursday, September 25, 1997

Review by Alphonse Leong
Photography by Rodney Gitzel
---
[Rodney's Note: Unfortunately, due to a conflict with another show, I didn't make it back over to the Portside quite in time to photograph Dorothy Missing.]

It's a mini-Lilith Fair in a boat's bar! Yep, songstress Suzanne Wilson presents an evening devoted exclusively to female artists every Thursday at the Portside Room, the lounge part of the Seven Seas restaurant which is, yes, a boat, moored just off of Lonsdale Quay. And, on this particular night, some pretty accomplished songwriters were displaying their wares.
Due to the bowing out of a scheduled performer, Wilson herself dutifully performed a full-length opening set. With blonde tresses flowing and wearing a tan jacket, matching tights and black leather boots, she cut a vivacious figure quite different from the demure folkie I took her for during a Fringe in the Park appearance only weeks earlier.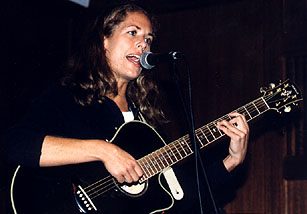 Possessing a clear, delicate voice that evokes 60's worldly warblers like Joan Baez and Judy Collins, Wilson reeled off a set of listenable (if a bit long) compositions that covered topics ranging from addiction ("Blackjack") to whimsical imagery ("Underwater," containing a wonderful line, "licking kisses of fifty fishes"). Although she accompanied herself mostly with understated finger-picking, she did try some feisty strumming (and made feline vocalizations!) on an animated cover of Harry Miller's "The Cat Came Back".
Featured act Dorothy Missing is one of those bands that not many people know about but should. I may have been a little giddy from seasickness (yes, the boat really rocked!), but guitarist Karen Rauh struck me as one of the most sublimely inventive players in the city. She and vocalist Sara Mitchell have together crafted material of impressive musical and lyrical depth.
Opening with a breezy, affirmitive song called "Autumnal Bliss," the four-piece showed a tasteful command of acoustic instruments (including hand-crafted percussion). But when the electric instruments came out after the second song, it became apparent that a cramped boat cabin is not an ideal acoustical environment! Yes, there were some sound level problems, but Mitchell's powerful voice still cut through with startling precision. She immersed herself into every line and made a particularly dramatic impact on the short but memorable "Middle Child" ("I want to give things away/And really mean it"). And talk about in-your-face vocals: due to the miniscule stage, Mitchell was forced to stand on the floor right in front of a table!
Continuing with the cat theme started by Wilson, the band delivered their own witty "9 Lives," with the catchy refrain, "If I had nine lives, I'd spend them all with you." Despite the seriousness of songs like "Sleep" and the vaguely unsettling "The Crescent " (all on a debut CD scheduled for February release), the mood of the small room was light, with friends, family and neighbours in the crowd. I almost felt like I was intruding at a private gathering.
The band closed with a brand new song-in-progress tentatively titled "August," and Rauh completely let loose in this one, playing a mega-solo complete with feedback and an assault on the mic stand (though probably accidental!). Yes, Dorothy Missing is as good a band as any to have with you if you're set adrift in a boat on the high seas.
---
First published in Drop-D Magazine on October 11, 1997
Index | Search | E-mail | Info | Copyright

Considering copying some of the images from this story?
Please read this first. Thanks.