Where's the Wank?!?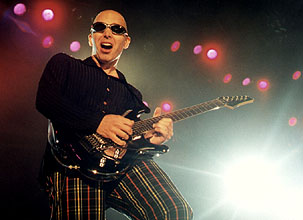 The G3 Tour
Joe Satriani, Steve Vai and Kenny Wayne Shepherd
with Robert Fripp
The Plaza of Nations
Vancouver, B.C.
Friday, September 26, 1997

Review by Andrew Parker
Photography by Rodney Gitzel
---

In an era when the public is subjected to an unprecedented amount of entertainment info, it is rare for a concert to actually live up to the hype. G3, the guitar summit of Joe Satriani, Steve Vai and Kenny Wayne Sheppard (plus special guest Robert Fripp), not only matched the industry buzz, but blew it off the stage.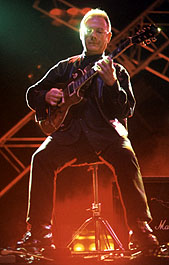 Fripp, best known for his goth-tinged soundscapes in groups including King Crimson, created the first noises of the evening. For some of us standing in the endless cue to enter the Plaza of Nations, Fripp's alchemic guitar and synthesizer compositions offered the only solace in a saturating downpour. Once inside, an equal amount of applause and off-colour jeering suggested that the G3 crowd was either annoyed or mesmerized by Fripp's low-key set. To me, the mixture of electronic snaps/pops that were welded to his chordings sounded eerily like a mini Dead Space/Drums.
Junior man in the G3 firm, Louisiana blues phenom Kenny Wayne Sheppard tore into his guitar with the ferocity of a souped-up muscle car. Unmistakably, echoes of the Austin sound immortalized by Stevie Ray Vaughan were audible, but Sheppard's charisma and thick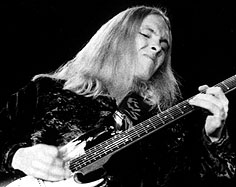 blues chops were enough to ground me in a present state of bliss. He fleshed out "Slow Ride," a bare-blues skeleton, with a series of solos that seduced the crowd with scorching sex-appeal. The twenty-year-old also dusted off Hendrix's sacred guitar hymn "Voodoo Chile." While a guitar-head beside me whispered the difficulties of playing the opus, Sheppard injected new life into the song, paying homage to Hendrix while inventing a modal or two of his own. [Rodney: Am I the only one who thinks Sheppard looks like he could be in Hanson??]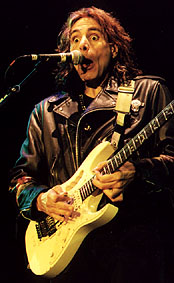 Following a brief interlude punctuated by a blur of guitar techies and a sweet, rising haze of pot smoke, a grinning Steve Vai told the crowd to "Get ready for something different." No stranger to the carnival atmosphere of concerts, Vai proved to have countless surprises in his trickbag. Having belted out crotch rock for David Lee Roth and Whitesnake, Vai effortlessly executed the patented lead guitar moves. What surprised me, though, was the range of emotional reflection he expressed on his fretboard. In his atmospheric solos, Vai deconstructed the 'Big Hair' caricature which critics like to pin on him.
In his inimitable style, Vai truly played some enchanting instrumental rock. Lick after lick of haunting, often mournfully beautiful sounds floated over the audience. Diving into the well-traveled waters of "My Favourite Things," Vai performed a mood-altering rendition that nipped at the heels of Coltrane's finest moments. Adding to the spectacle were the high kick antics of Vai's dreadlocked bassist, who, despite a circulation-threatening leather suit, pumped out some fat funk.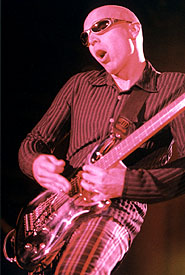 Satriani, forgoing any flashy rock star outfits, chose a more minimalist-subdued opening. Without stage chatter, he and his thundering rhythm section cranked into an open throttled, 1200-cc sound. "Flyin' in Blue Dream" possessed the speed-induced frenzy that is tattooed on Satriani's music. While Vai's set was like a moody hike in the moors, Satriani appeared intent on achieving supersonic status. Surrendering fully to his arrangements almost left me completely exhausted. Satriani can slow down however, as evidenced in a roaming, visceral ballad that was given ballast by the bass work of Stu Ham, who later reeled off an amazing solo piece based roughly on the Beatles' "I Want You."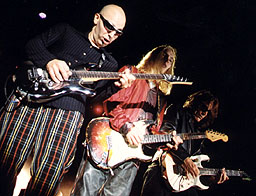 As promised, the headliners, including a slightly confused-looking Fripp, packed the stage at show's end for Le Grand Jam. Beginning with the nugget "I'm Goin' Down," all the guitarists respectfully sawed away on extended solos. As Vai cranked into "You Really Got Me," the audience seemed stunned with the intoxicating force of four lead guitars. Satriani truly shone brightest here, sending killer staccato bursts into the back rows. For the evening finale, the satisfying "Red House" was given reverential treatment, inspiring Vai to challenge Sheppard to a duel of smoky blues shots.
As a concept, G3 sounded like a corporate marketing coup, and a potentially wank-filled washout. Luckily, the musicians' love for entertaining an appreciative audience took precedence over image, leaving many of us contemplating the lineup for the next G3 meeting.
---
First published in Drop-D Magazine on October 11, 1997
Index | Search | E-mail | Info | Copyright

Considering copying some of the images from this story?
Please read this first. Thanks.