Flaming Moes in Hotcouver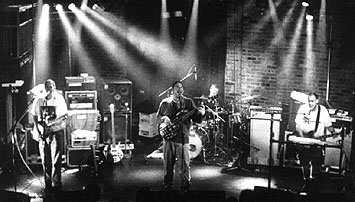 Moe
Richard's on Richards
Vancouver, B.C.
Sunday, October 5, 1997

Review by Darren Kerr
Photography by Rodney Gitzel
---

"Once I saw Moe, I never saw Phish again," said the photographer, up on the balcony of Dick's on Dicks among the crew of tapers. A pretty strong statement -- albeit a stupid one. I mean, just because the Melvins tear me a new one doesn't mean I'm gonna stop listening to Alice Donut. But it does give you an idea of the kind of loyalty this band inspires.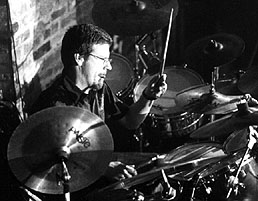 Moe, from upstate New York, are the latest jamming virtuosos to give Relix magazine writers the big orgasm. And, rightly so: Moe take the doppleganger dual guitars of the Allmans, the over-the-top fuckery of Fripp, and the memorable songcrafting of early Little Feat -- and dope it up with reggae, funk and jazz elements.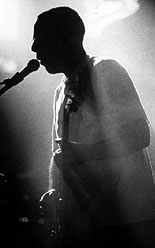 I can't tell you what they opened this show with due to slight entrance complications (i.e., I couldn't get in right away). The first song I did hear was "She Sends Me," complete with extended talkbox solo. Why is it that every time I hear a talkbox I think of that Frampton guy coming alive? Even though guitarist Chuck Garvey uses the thing very well, I always think "Do You Feel Like We Do." Pathetic, huh?
Not only does Garvey play the mouth tube thingy, he also plays a nasty slide guitar, as evident in much of the elongated solos throughout the night. Rob Derhak, though, is this band's ace in the hole: a lot of people can make pretty music on their guitars, but few can people can play wide-range bass guitar like Derhak. Whether he is commanding the proceedings with slap-happy brilliance or sitting in the pocket while Garvey and fellow guitarist Al Schnier get their ya-yas out, Derhak looks as though all the intricacies are just another day in the park.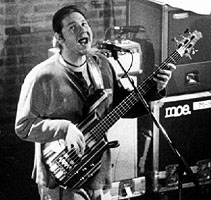 "Nebraska" is proof of another of Moe's strengths: harmonies. Garvey, Schnier and main singer Derhak really know their way around fifths, sevenths and harmony in general. This great tune also boasted an amazing Garcia-esque solo by Schnier.
I would be remiss if I didn't point out the humour that exists at a Moe show. At one point tonight, they were having a screaming duel which Schnier won by singing some lines from Rush's "Temples of Syrinx." You get the feeling that they are telling a lot of musical jokes, as well. During the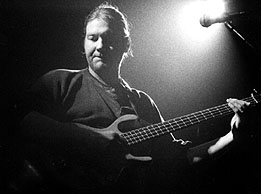 bridge of "Buster," they went into a stanza that was so pretentiously King Crimson that you just had to laugh out loud. They also kept referring to our fair city as 'Hotcouver.' "Hotcouver -- I'm going to have to say that once a day, now," joked Garvey.
When I left after approximately two hours -- so I could catch the last Skytrain home -- they were still going strong without a break. Pick up Moe's No Day album, or grab a live tape from your closest connected hippie, and turn your living room into Hotcouver. As Homer J. Simpson once muttered insanely, "Moe. Moe. Moe. Moe."
---
First published in Drop-D Magazine on October 24, 1997
Index | Search | E-mail | Info | Copyright

Considering copying some of the images from this story?
Please read this first. Thanks.