Lost Somewhere in Country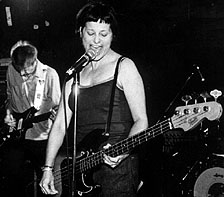 The Geraldine Fibbers
with Miss Murgatroid
The Starfish Room
Vancouver, B.C.
Wednesday, November 5, 1997

Review by Darren Kerr
Photography by Rodney Gitzel
---

Oh hail the trendy Starfish Room and all the indier-than-thou scene queens and math rock freaks who sail within her. I'm waxing poetic because this place has given me another musical high-water mark in my sonic existence to add to the memory of Ween's multi-hour extravaganza some few years ago. The Geraldine Fibbers were everything I expected them to be -- dynamic, chaotic, rustic, torchy, and totally and utterly beautiful.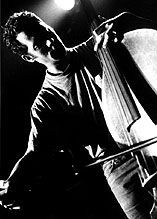 Carla Bozulich formed the Geraldine Fibbers after her weird and wonderful band Ethyl Meatplow called it quits. In 1995, the Fibbers released their brilliant distorted country rock debut, Lost Somewhere Between the Earth and My Name, which gave forth the powerful video song, "Dragon Lady," and which gave notice that this was a band to be reckoned with. This year's release, Butch, drives the point home with joyful abandon.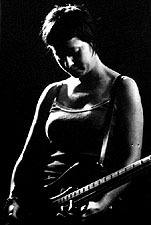 The announcement that the much-requested "Dragon Lady," the best song on a debut album filled with best songs, wasn't going to be played was met with sorrow and amazement by many, myself included. No matter, though, as Bozulich, who is just as much Patti Smith as she is Patsy Cline, put everything into the set, gripping the mic stand and spitting punk rock vision filtered through a saloon drinking glass. "California Tuffy" was so much more intense than on record. A cover of Can's "Yoo Doo Right" was wild wild wild. Older tunes like "The Small Song" and "Marmalade" came alive with biting violin tones courtesy of the band's new violinist.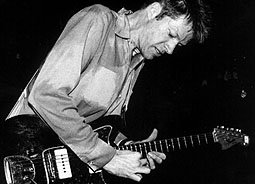 Guitarist Nels Cline is the Fibbers' new and concealed weapon. He can play jazzy finger-breaking chords all over the guitar at any time. He can give forth aching lap slide, which he did for the George Jones cover "The Grand Hour." He can enter the realm of Fripp and Maclaughlin with fast, blindly sweeping notes. (And he does the same thing on Mike Watt's new high-concept opus, but with more restraint.) Amazing.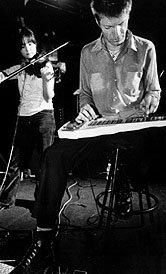 The best thing about the Geraldine Fibbers is the way that all the instruments come together to create breathtaking walls of sound. The final encore was "Outside of Town" which was performed by only Cline and Bozulich. The way the guitars wrapped around each other, especially during the medieval break, left my jaw dropping low. One of the best pure music sets of the year.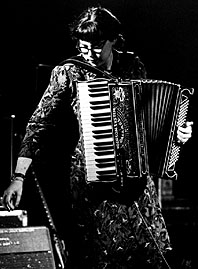 The opener was Portland's Miss Murgatroid, who played church music for an alien purgatory [ed. murgatory?]. After an introduction of a few lengthy instrumentals, Miss M. revealed a singing voice reminiscent of the Cowboy Junkies' Margo Timmins. She also had a gentle self-deprecatingly humourous stage presence that brought to mind Janeane Garofalo. One song saw her repeatedly bellowing "1-2-3-4!!" She screwed up one of the counts and had to do it twice.
With sounds that would send an accordion teacher into instant cardiac arrest being coaxed from her instrument, it was evil carnival music, perfect soundtracks for David Lynch and Dario Argento. Not surprisingly, Miss Murgatroid sold all of her CDs in no time. File under something unique very well done.
---
First published in Drop-D Magazine on November 22, 1997
Index | Search | E-mail | Info | Copyright

Considering copying some of the images from this story?
Please read this first. Thanks.