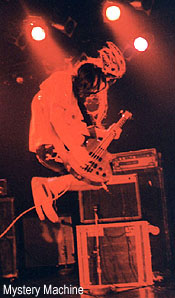 At Odds with Idiots
Odds
with Mystery Machine and Mudgirl
The Fabulous Commodore Ballroom
Vancouver, B.C.
May 17, 1996

Review and Photography by Suzanne Goodwin
---

Aye, karumba! One...two...three (OUCH!)...four...hey, there's a nice purple one...bruises, squished ribs and a camera bag that stinks of beer: that's among the things I took home with me after the Odds show. For you dear readers, I braved the pit with the (perhaps naïve) intention of coming back with some choice pix for you to feast your eyes upon. Well, I don't know what you think of the shots, but let me tell you, it was all I could do to even breathe, let alone stand up. Get photos? Ha! Good luck! When I started gasping for air, a nice burly security person hauled me outta there -- phew! At least I survived to tell you about the show.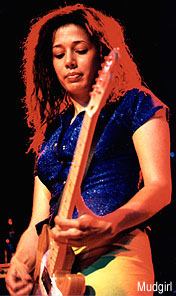 The evening started off ordinarily enough. I walked into the Commodore to find Mudgirl already into their set at 9:30pm. I thought this was a tad early for a Friday night gig, but it didn't seem that I had missed all that much. This four piece could best be described as straight ahead radiopop, with a heavy emphasis on a raw guitar sound. Their songs had a lilting, hooky quality that seemed to be derived mostly from the vocals, which were quite full-bodied and strong. Lyrically, the material was your average "life gets me down" stuff -- you could relate to it, but it wasn't anything profound. Although Mudgirl did play well enough to capture some audience attention, they will probably fade from memory because they just were not that unique. Perhaps if they can capitalize on their singer's vocal talents and bring some more fire to their performance they will turn some heads in the future.
I was expecting a similar performance from the next band up, Mystery Machine. I had seen them open last summer for hHead, and hadn't found them to be anything outstanding. Well, was I ever in for a pleasant surprise: Mystery Machine rocked! You know they're doing something right when you turn around and see a previously empty dance floor full of a couple hundred people pogoing -- after only the first few songs -- and it's not the headlining band playing.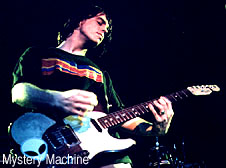 Mystery Machine put on a highly charged, tight set. With a strong emphasis on a very solid bass foundation, their guitars were edgy and pronounced. This was definitely pop, however there were strong undertones of grunge and rock topped off with melodic yet intense vocals. Except for a quick bit of tuning, Mystery Machine played, barely catching their breath nor breaking between songs. It was clear to me that this band has matured considerably in the last several months and they seem pretty serious about capturing our attention. Definitely check these guys out, I think we'll be seeing more of them in the days to come.
By the time Mystery Machine left the stage, the floor of the Commodore had become, literally, a crush of bodies. I had this really bad feeling that things weren't going to be pleasant for me, right there, in the middle, at the front. No, there wasn't a barrier (apparently Odds had the option to have one, but declined), but what should that matter right? Most clubs don't have them anyway. I should have known better...the idiot level of the audience seemed to rise with each passing second while we awaited the start of Odds' performance and that nagging feeling I had was growing. Some slobbering drunk was using several of us for leaning posts and the human crush was getting, well, real tight.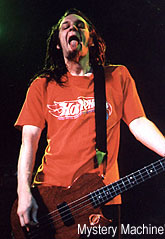 After what seemed to be an eternity, out came Odds. They opened with "Jackhammer," the floor went berserk and I was trapped! Some moron thought it would be real funny to try and cover up my camera lens every time I tried to take a picture, so I tried to hold his arm with one hand and take pictures with the other -- that was in between using both arms to hold myself up and protecting my camera and bag from flying feet and beer. However, it didn't matter because I was sinking towards the floor anyway. That was only the first song. I lasted for about four more and spent a couple more just trying to get out. There was no getting even remotely close to the stage after that. So, if you don't like the Odds pictures, tough! I'd of liked to see you do any better; just 'cause you're a media weasel doesn't always mean you get the choicest spots!
Anyway...fortunately Odds' performance was so impressive, all else was soon forgotten. Their set concentrating heavily on material from their last release, Good Weird Feeling, and we were treated to a couple of new tunes as well. The newer ones seem to be much in the same vein as Good Weird Feeling, but perhaps a little more uptempo. It was hard to make out the words, however, as the room's sound was very unbalanced, with far too much emphasis on guitars. Odds apparently hadn't played live in a while and Craig Northey's and Steven Drake's vocals seemed as though they could have used a little polish. This however was a minor and my only complaint.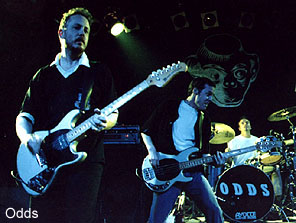 The show overall had a very casual almost jam-like feel to it. This unpretentious band bantered all night with the audience, whose surfing got out of hand enough for Odds to stop playing several times while a security guy chased someone around the stage (Odds had to move their equipment back twice). People were yelling out requests, Craig and bassist Doug Elliott danced together for us and drummer Pat Steward even got out on stage front to croon out a corny lounge tune. Older material like "Heterosexual Man" and "It Falls Apart" wasn't neglected either; Odds smartly varied the show's cadence throughout the evening pairing older faster tunes up with newer ballads like "Oh Sorrow, Oh Shame."
Although I can't say there was any one real outstanding moment, the entire set really was a good time, and 1100 (or so) participants can't be wrong, high idiot level or not. Odds seem to have the talent and durability to completely captivate and rock us out, all at the same time. Except for the aforementioned sound problems, Odds put on a concrete and cohesive show: well played, high energy, good song mix and just plain fun. Odds seemingly enjoyed being there as much everyone else. Fame (and fortune?) doesn't seem to have adversely affected them yet, if ever, and they get my vote as one of the more talented Canadian bands on the scene.
Seeing Odds live, you get the feeling that these guys are serious, professional musicians determined to make a mark, yet they never lose their freshness, energy and humour. If you can ever catch Odds live, do it, because it'll give you that "good weird feeling" you can only get from experiencing a truly awesome live band.
---
First published in Drop-D Magazine on May 24, 1996
Index | Search | E-mail | Info | Copyright

Considering copying some of the images from this story?
Please read this first. Thanks.