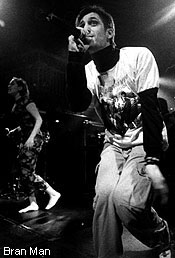 Come on Feel the Bran
Bran Van 3000
Richard's on Richards
Vancouver, B.C.
Friday, January 30, 1998

Review by Darren Gawle
Photography by Rodney Gitzel
---

There's no reason why you should be able to spot in one room as many diverse 'crowds' as there are on the floor at Dick's on Dicks tonight -- unless the reason is Bran Van 3000. In front of the stage are (naturally) the top 40 crowd out to see (probably) their only show of the year; but mill around and you'll run into the hip-hop kids, the DJs, the ravers and even a smattering of slackers. It's not surprising when you consider BV3's inclusive attitude towards music -- their debut album Glee is a genre-crossing menage ad infinitum of styles. You are the parts of BV3's sum, folks, and make no mistake, Bran Van 3000 loves you.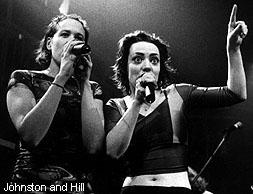 BV3 opens tonight's show with a heavily electronicized version of their cover of Slade's "Cum on Feel the Noize," with Jayne Hill and Sara Johnston (wearing a slinky print dress which is sending our photographer into fits) trading off vocal duties. What the audience makes of this is not clear -- their general apathy (or confusion, take your pick) leads Sara to chastise us with an exasperated "C'mon -- make some fuckin' noise!" (More eastern 'attitude'? Well, not really: "Oh, we always say that during the break..." admits James "Bran Man" DiSalvio, later.) The scene has been set -- BV3 may be choreographed, but there's enough of a general air of looseness among the nine performers in the band to hint that they're not being cynical about it.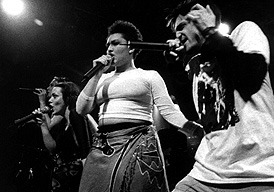 As if to prove this, the Bran Man makes his entrance during the set's second number "Afrodiziak" with buddy MC Liquid in tow. He raps a few bars and then retires to smirk from the peanut gallery with Sara and Jayne while Liquid plays his Mark Wahlberg lookalike act for all it's worth for the lay-deez in the house. With the band treating the show like some manner of giant house party, the generally loose attitude on stage gradually infects the audience through "Ceci N'est Pas Un Chanson" (dedicated by DiSalvio to the girls of Montreal's East End) and current single "Couch Surfer," and the crowd begins to groove and interact with the band. It all culminates in a particularly cheeky moment when Hill and resident soul diva Stephanie Moraille sprinkle the audience with a box of Raisin Bran (Get it? Hurhurhur!).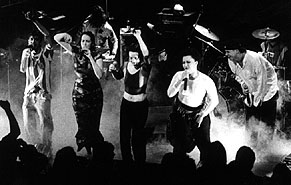 This playful attitude towards performing also makes itself apparent in the music itself. With "Electronic" Pierre Bergen at the controls, the aforementioned "Cum on Feel the Noize" has already been remixed beyond all recognition, and there's more to come. Debut Muchmusic über-hit "Drinking in L.A." starts off as faithfully radio-friendly as we remember it, but soon enough it spirals into a white-noise wigout featuring the eastern-flavoured cello talents of Sara Johnston. And, with DiSalvio giving a nod to Bono's "This is not a rebel song, etc..." intro, "Sunday Bloody Sunday" gets the same treatment.
Later, for the encore, bassist Gary McKenzie and guitarist Nick Hynes (wearing the orange boiler suits from the "Drinking In L.A." video, naturally) swipe the spotlight for a take on "Exactly Like Me!", and, concluding with an overdriven version of "Supermodel," the show ends with a moshpit on stage.
Bran Van 3000 are a victory of inclusion over exclusion. It makes perfect sense, really.
---
First published in Drop-D Magazine on February 22, 1998
Index | Search | E-mail | Info | Copyright

Considering copying some of the images from this story?
Please read this first. Thanks.