Slow, Just Because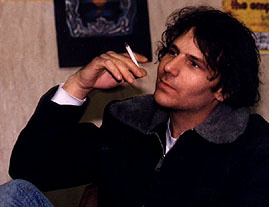 Richie Lee of Acetone
Interview by Darren Kerr
Photography by Rodney Gitzel
---

45-second excerpt from "All the Time" (various formats)


Los Angeles' Acetone have been described as 'slow core,' but get that term out of your brainbox right quick. It's to be used when describing bands like the Melvins, Godhead Silo or Grief, and not when referring to the liquid landscapes created by guitarist Mark Lightcap, vocalist/bass player Richie Lee and drummer Steve Hadley, which are more akin to the Velvet Underground's more tranquil material, like "Candy Says" or "Jesus," and to kindred spirits like Spiritualized.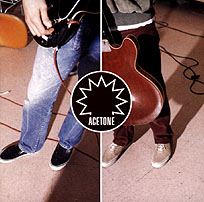 Acetone have released three albums and one EP since their birth in 1987. Their mileage has varied. "One of the works and one of them doesn't," says Richie Lee, in town for a recent show at the Brickyard, of Vapor, their new, Neil-Young-run label, and Vernon Yard, the label they left. "Vernon Yard never, um... after the first few months, nothing happened," he continues. "Vapor's actually getting our records in stores. Vapor's actually doing what a record label's supposed to be doing -- you know, you make the records and they get them to the people."
Neil Young isn't the only music heavyweight that Acetone are connected to, either. They recently toured with Spiritualized, the brainchild of Jason Pierce (ex of Spacemen 3). It's a relationship that promises to bear creative fruit: "Yeah, me and Jason are supposed to do something together, but other than that I can't tell you much about it because it hasn't started yet. But we've been talking about if for a long time. Right now his record's out, and our record's out, so we don't have a lot of time to get to it, but I would imagine we will sometime this year."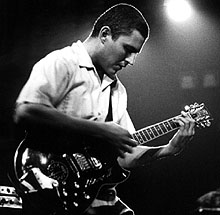 The tour with Spiritualized went well [ed. even if the crowd at the Vancouver stop was kind of annoying]. It's not hard to envision Lightcap and Pierce gee-gawing over each other's pedal boards, and comparing distortion swatches like a couple of housewives. "It was great. I'm friends with Jason, have been for a long time. We have mutual respect for each other's music. Spiritualized may be the best tour we've ever done, you know, with the musical crossover. The fans really understood."
The critics understand, too, though even Lee admits they might be jumping the gun when they say things like, "Acetone could be the band to the carry the torch of 'cosmic American music' handed down by the legendary Gram Parsons." "I don't know, that's just a little bit lofty," says Lee. "I don't know if I'm anywhere near Gram Parsons, and I'm not sure how I feel about carrying a torch. It's just nice to be compared to someone like that."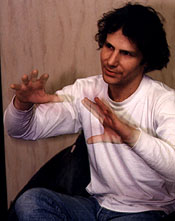 Other comparisons are of equally high regard, like to Nick Drake. And then there's the suggestion that Acetone are "the new kings of the No Depression movement," the label attached to Wilco, Uncle Tupelo, Son Volt and other like bands. "Why do they call it the 'No Depression' movement?" Lee wonders. "It seems like it's the lot-of-depression movement. I guess [those bands] are happier. They make more money than we do. [Laughs.] We've never really been compared to them, but, I mean, I like that last Wilco record."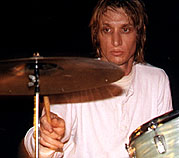 And Nick Drake? "I've been listening to tons of Nick Drake. I love him. I love that dark brooding kind of thing." What about one of my personal favourites, the late Jeff Buckley? "I'm actually a bigger fan of Fred Neil, who was a big influence on Tim Buckley, Jeff's dad. He did 'Everybody's Talkin',' from Midnight Cowboy, and 'Dolphins.'"
So now that Acetone are on a label that is giving the band good ad and tour support, as well as excellent distribution, what sort of response are they getting?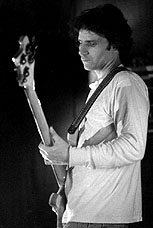 "You know, this record is sort of lending credence to our other records. People had a hard time understanding our last one, If You Only Knew, and the new record's helping people understand our other stuff. I can remember when I was a kid, you know, I wouldn't get a band until their third or four record, and then I'd understand it all."

We should end by getting into why Acetone albums make such great soundtracks to a drug haze, why every album since Cindy threatens to put me to sleep if I listen to them lying down -- and why they're so damn slow.
"It's not really a conscious effort to make quiet music, you know, we just do what we do. It's just whatever happens, happens. I thought that If You Only Knew was the pinnacle of quietness. I used to fall asleep to it a lot."
---
First published in Drop-D Magazine on March 14, 1998
Index | Search | E-mail | Info | Copyright

Considering copying some of the images from this story?
Please read this first. Thanks.