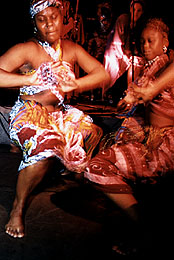 Vancouver Hip-Hop? Whoa!
The PMIA/FM 96.1 B.C. Reggae & Hip-Hop Showcase
with Bounty Hunta and the Mutineers, Sketch J:imani, Snypa, Omoye Afi, T'ai Pu Abeoye, DJ Ali Baba and M.C. Papa Indian Lion
The Chameleon Urban Lounge
Vancouver, B.C.
Thursday, March 11, 1998

Review by Darren Gawle
Photography by Rodney Gitzel
---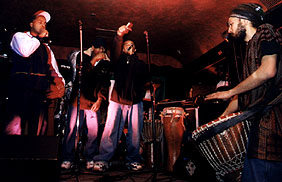 "Vancouver has a hip-hop community?"

It should make sense, given the white-bread nature of 99% of local bands, that hip-hop may choose its relative anonymity and guard it. On the other hand, given the white-bread banality of 99% of local bands, Vancouver's hip-hop community deserves more support than it gets from the city's music 'intelligentsia.'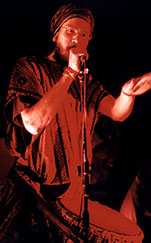 So, after a shambolic fashion show by Phat Farm goes out with a whimper instead of a bang, T'ai Pu Abeoye has his work cut out for him to inspire some life in the crowd, who are packed in tight to the low-ceilinged Chameleon. Djembe player and our spiritual leader for the twenty or so minutes he's on stage, he more than delivers the goods, along with D.J. Ali Baba at the controls and a couple of sisters to liven up the dance floor. He then passes the mic to some friends in the crowd, of whom Chico from the Soul Gospel Choir turns out the performance of the evening. Can I get a witness?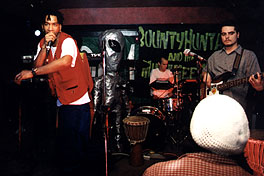 M.C. Indian Lion's appearance during Bounty Hunta's set is so brief that one trip to the washroom ensures that I'll completely miss his act. Bounty Hunta himself provides a good set of vocals which range from rap/ragga to more traditional reggae. The Mutineers behind him supply the phat dub rhythms necessary for the music to work, in spite of there being only two of them that I can see.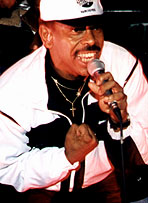 Omoye Afi and Snypa steer the evening back onto a more conventional hip-hop path, with our girl Omoye playing up more of a soul diva role and Snypa showcasing a more edgy, gangsta-inspired sound. There's usually something silly about a white middle-class male trying to pull off the sound of black urban protest, but Snypa manages to avoid sounding like House of Pain, which is an achievement in itself.
And, with what our man Bishop refers to as 'the main event,' tonight's headliner Sketch J:imani is upon us. There are three phrases which best describe our Sketch:
Yo! Yo! Yo!
Wave yo' hands in the air like ya just don't care!
Everybody in the house say whoa!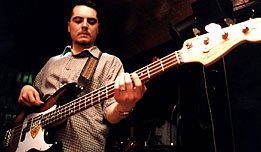 In other words, Sketch is showing that hip-hop can be just as formulaic, watered-down and banal as white music is these days. Things just haven't been the same since Public Enemy broke up.

Ultimately, the acts here tonight go to great lengths to show that there are alternatives to this sad, sore old horse we call 'alternative' (am I beginning to sound like a broken record here?... are you noticing a point, yet?). And, at least as far as T'ai Pu Abeoye is concerned, they're certainly more deserving of your attention.



---
First published in Drop-D Magazine on March 21, 1998
Index | Search | E-mail | Info | Copyright

Considering copying some of the images from this story?
Please read this first. Thanks.