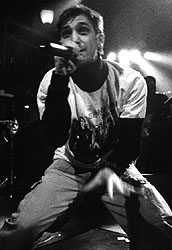 A Man Named Bran With a Clan
James 'Bran Man' DiSalvio of Bran Van 3000
Interview by Darren Gawle
Live photography by Rodney Gitzel
---

Just how new to this touring thing is Bran Van 3000 you ask? Well, ask Duncan, their road manager -- er, or rather don't. He's forgotten completely about the interview ("Oh man, I'm sorry -- I just wish you could see the state of the fax I got yesterday about it, it's a nightmare!"). No problem; it's not like I had anything else planned, and the weather is shockingly mild for the end of January, even by Vancouver standards. I'm waiting at home for a call to re-schedule the interview. C'mon Duncan, give us a ring-ding-ding -- it's a beautiful day...

Eventually the call comes and the interview is set up at the band's hotel. I meet up with Duncan and James 'Bran Man' DiSalvio, who seems a bit stoked that there's a monster truck pull across the street tonight at B.C. Place. Tonight's the band's night off, having played at Richard's last night and being due in Seattle tomorrow. And how did James feel about Vancouver's first chance to put some faces to the music from the band's debut album, Glee?

"The record's a little artier than the show, so some people who know Bran Van only from record might think the show's a bit hype. That's the usual first-time reaction. But it was a great audience -- very open, very giving, very chill. Somebody compared you to a Massachusetts audience...I don't know what that means."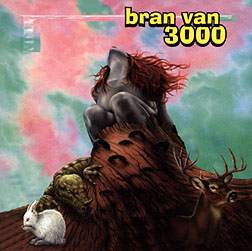 Though the Bran Van collective draws sharp contributions from all involved, it's still DiSalvio's baby. Summary: an aspiring young video director in Montreal, our James spends some spare time and whatever extra cash he makes from videos down the studio every now and again, working on whatever song's running through his mind at the moment. Within a couple of years, he's got an album's worth of tracks completed, and in 1997 Glee is released on an unsuspecting nation. Unsuspecting nation? Try an unsuspecting DiSalvio, who didn't even have a band together to play the album live, let alone to shoot the video for the song that broke things wide open, "Drinking in L.A."
"For that, we did a couple of low-key gigs -- not even in Montreal, it was out in the country because there was already a kind of buzz about the record and none of us had ever been on stage before, except for Sara [Johnston, vocalist] and Liquid [Steve "Liquid" Hawley, vocalist]. The record company had thought we were going to give them a dance record because of my background in DJing mixes, and they got a more alternative-sounding record, and that usually means touring. So they confronted me with the idea of putting a band together, and I liked the idea, so that's what happened."
What was the effect on the others in the band, having to deal with the brouhaha around the album while touring it, after very little notice?
"I think we're all kind of freaking out a little bit. Like, I'm sitting in the middle of an ice storm at home and they're telling me 'You have to play a 500-seater in Vancouver' and I've never been out here before. The good side is that when people come to see our show, they see us laughing amongst ourselves, wondering what the hell's going on. So we're just trying to have a party on stage -- like, Sarah and Steph [Stéphane Moraille, soul diva] never met each other before this, and now they're like sisters."
As if the reaction in Canada isn't enough, Glee is also generating an abnormal amount of interest stateside for a Canadian band.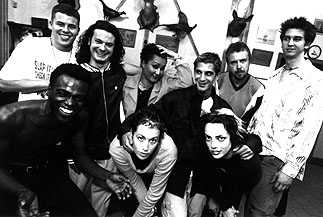 "Yeah, KROQ [Los Angeles], KNND [Seattle] and some other stations around the country are playing us pretty intensely, so it's starting to bubble in the U.S. the way it did in Canada this summer. It's not every day that... well, I don't think it's ever happened that a Canadian band has been the subject of one of the biggest bidding wars ever down there. And I don't say that boastfully -- it still surprises me. And along with that comes a sort of 'out of the frying pan, into the fire' kind of situation where we're playing with the Crystal Method and Moby on our first time ever in the States."
"But you'd be surprised how all of a sudden, even in Canada, stations who didn't want to play us are jumping on our thing because KROQ's playing us. Canada's still rooted in waiting to see if a band will make it across the border before they'll accept it here. And in terms of Bran Van it happened so quick -- eight months -- and Canada gave us more support than I thought. I was surprised that the underground and the mainstream embraced it at the same time." [ed. Indeed. Glee just won the Juno Award for "Best Alternative Album."]
The most surprising thing in regards the success of Bran Van 3000 is that they're a marketing rep's worst nightmare. How do you try and sell a programming director on a band that runs from Stockhausen-like sound collages to heavy metal to hip-hop to jungle to country and western to indie new-wave -- usually during the same song? You don't get the impression that James really thought too much about that -- or really cared, either.
"It's a weird thing for me, personally, that if I'm working on a glam-rock song and I want to break into jungle or country or muzak, I'll do it because that's what I feel should go there. It's something that I know I would enjoy, and a lot of the composition of Glee comes from my DJ background, making tapes for friends or layering tracks on turntables."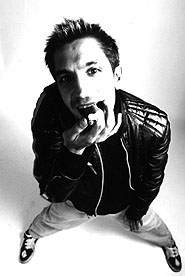 "And then I found myself in a band where everybody had that same sense of 'no boundaries.' So if we're working on some kind of Sonic Youth feedback jam, instead of putting Sarah or Jayne [Hill, vocalist] on it, we'll put Steph on it for some big soul vocals. And then the other way around, we'll put a really white girlie-pop break in a dark hip-hop tune."
"I hope it doesn't alienate anybody, but at the end of the day songwriting is songwriting and you just hope to write good songs and camouflage them with your own innovation or experimentation."
What was it like having to clear all the samples that were used on the album?
"Samples are like airline tickets, if you have a good travel agent. Every sample's its own adventure. Some people wanted absurd amounts of money, so it was like 'Fuck you then, we'll just cut you off the album.' Others were very cool -- mostly those who've been there before, like the Dust Brothers. Some, like George Benson, would have no part of it."
It's at about this point that another core member of the Bran Van collective walks into the room to start packing: 'Electronic-Pierre' Bergen, or 'E-P' for short. He's been out visiting his old neighbourhood in the British Properties this afternoon, and notes, "It's weird, like, every time I meet people here and say I was born here, they say 'Oh, I was born in Montreal."
He's referring to the fact that I've just told him I grew up in Pierrefonds, and James picks up on the topic: "Oh yeah, I've met tons of Quebecers here -- I got coffee this morning and it's like 'Hey salut! Bran Van!'"
What is going on in Montreal these days? Back in the late 80's there were tons of Montreal bands around, like the Asexuals, Deja Voodoo, the Gruesomes and the Doughboys, but lately we haven't been hearing too much from that part of Quebec.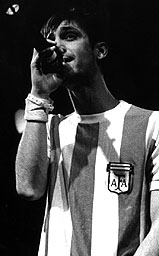 E-P agrees: "Yeah, there was more back then than there is now." But, adds James, "I think that you'll see that the hip-hop scene in Montreal will be the next big thing to break. Maybe in Toronto too, because it's like the scene in San Francisco, an innovative hip-hop. We've got stuff like Kid Koala and 8-Track, and it's all starting to bubble like indie rock did. And there's a pretty cool underground, David Christian, all this crazy experimental drum & bass."
Speaking of Montreal bands, just how much input did the Doughboys' John Kastner, who is listed in the liner notes as one of the 26 members of the Bran Van collective, have in the album?
Says James, "He just came down for one day -- he played a couple of hours and the press just jumped all over it! We love John, and we see him a lot, but he only played one note!"
"An E!" laughs E-P.
"At the end of 'Gimme Sheldon,' that's it," continues James. "Sarah and E-P and myself put so much time and effort into it, but the press all went after the John Kastner connection. But that's okay. We really like John, but he's more of a drinking buddy. We've been talking about doing more stuff, though."
I suppose, though, that since the promo copies of Glee arrived all by themselves, without any information or bio about Bran Van, the press would just dig out whatever looked familiar to them -- in this case, Kastner.
"Yeah, I know. Some critics didn't even listen to the disc because they took one look at the cover and threw it away -- then they had to run and find it when it came time for interviews."
"But it's cool, and maybe it'll open up some new eyes to our brand of... er, shit-hop. Ha!"
---
First published in Drop-D Magazine on April 3, 1998
Index | Search | E-mail | Info | Copyright

Considering copying some of the images from this story?
Please read this first. Thanks.