Anarchy in Surrey?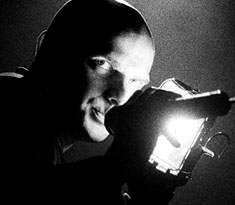 Chumbawumba
The Rage
Vancouver, B.C.
Monday, March 23, 1998

Review by Darren Kerr
Photography by Rodney Gitzel
---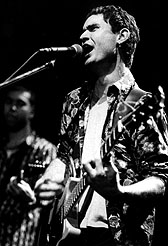 Okay, okay, I missed the opening band [ed. Vancouver's Slye -- or just call them Sax with Nixon -- filling in for the sadly absent A3], but doing that only three times in two years is a pretty good record, especially given the fact that I reside across the Patullo Bridge in the red neck of the woods. Ah, Surrey. Suddenly people who wouldn't give a crusty anarchist the time of day are singing "Tubthumping" and pumping their fists like a right bunch of yobs. I've finally figured out what Chumbawumba's agenda is: subversion through infiltration. By joining the mainstream -- and gaining fans even in Surrey -- they can get their philosophies into the minds of people who get their political awareness from Oliver Stone movies.
For over a decade the anarchist collective from Leeds known as Chumbawumba have walked it like they've talked it. By now you've probably heard about their nailing the British deputy Prime Minister with a bucket of water at this year's Brit Awards. But did you know that beforehand they struck fear into the heart of Prime Minister Tony Blair to such a degree that he didn't even show up? The band brought it all to the Rage. Strategy was planned, supplies were gathered, and total captivation of the audience was achieved.
Singers Danbert 'the cat' Nobacon and Lou Watts are going to be stars, supernova-like. They display the kind of riveting stage presence that can't be learned by reading music or fashion magazines. No matter if he was prowling the stage singing into a bright white light like Peter Murphy in vintage Bauhaus clips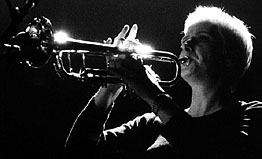 or into a mirror in a parody of a smarmy git, Nobacon was the consummate showman. Watts exuded a mischievous sexuality throughout the show, especially when she bounded on stage wearing a flimsy metallic silver top, wielding boxing clubs and shadow-boxing the audience.
I guess the word to describe Chumba's set would be "seamless." Numerous costume changes, instrument musical chairs, and song intros were pulled off without a hitch. The band played most of the songs from Tubthumper, and with more oomph than on record. Choruses were belted out like Abba in their prime. "Amnesia," "Good Ship Lifestyle" and "Big Mouth Strikes Again" sounded full and lush, with all the instruments -- guitar, drums, keyboards, violin and percussion-a-plenty -- coming through loud and clear. The bass in particular was a force to be reckoned with. You could feel it propelling the songs, propelling you. When the band went a cappella on "Homophobia" and "The Day the Nazis Died," their voices were breathtaking, and certainly on par with many Celtic vocal groups.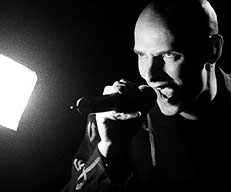 What set this show apart from those of other solid bands of their kind were those costume changes. Nobacon's brick wall ensemble, the white suit, and the lounge singer's tux (with a bad toupee making him look just like Arnold J. Rimmer from Red Dwarf) were the visual icing on the cake, as were Watts' road print dress and red dress with 'ugh' on the front. The piece de resistance,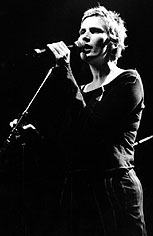 though, was Watts, dressed in full nun's habit, thrusting a bottle of Jack Daniels into the air and power-smoking a cigarette like some manic, vice-ridden Mother Superior. I'm sure that the sight of her in nun gear, coupled with her singing the lyrics "don't come in me, in me" and "come, did he come good," must give religious zealots hissy fits.
Of course, "Tubthumping" was the last song played in the set, and there weren't many feet still planted to the floor by this time. If you can write a song that turns people into instant lager louts, then you can ride it all the way to the bank. Two encores of five, maybe six, songs followed, and the very last song was the highlight of the night. Watts and Nobacon came out smacking hammers on steel beams in a chain-gang rhythm as the band broke into a song off the album Sssh, and the sound of a few hundred people singing "there ain't no justice -- JUST US!" was echoing beautifully through my brain pan the entire trip home.
---
First published in Drop-D Magazine on April 11, 1998
Index | Search | E-mail | Info | Copyright

Considering copying some of the images from this story?
Please read this first. Thanks.