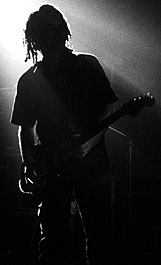 G.T.O. Disciples
Swervedriver
with Speedbuggy and the Liars
The Starfish Room
Vancouver, B.C.
Monday, March 30, 1998

Review by Darren Gawle
Photography by Rodney Gitzel
---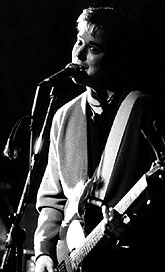 Olga's happy because she's back playing bass for Speedbuggy. Joe's happy because both his two bands are opening for what he terms "the greatest guitar-pop band in the world." Scott from Verona's happy, well, just because Swervedriver are still around. I'm happy just because I haven't walked out yet, and Swervedriver aren't giving me a reason to. Everybody happy? Good.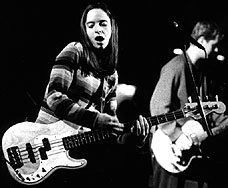 If Swervedriver hadn't existed, our two openers, the Liars and Speedbuggy, would have had to have invented them, with both bands prominently featuring that suspended bar-chord Swervedriver sound (as well as guitarist/vocalist Joe Cassidy -- well, it saves you from really having to look for two opening acts, doesn't it?). The Liars prove themselves better than their disappointing "Car Wash," which was featured on the 1996 Tiddlywinks compilation. Tonight they also add some guy on trumpet to their last song, and like an arrhythmic sample of the trumpet part from "Do You Wanna Be a Rock & Roll Star?", it somehow works -- marvelously.
Speedbuggy also appear to have found new life in opening for their heroes. With Olga back in the lineup, the harmonies are back where they belong, as well (i.e., on the same planet...), and they deport themselves with a lot more verve than the last time I saw them. By the way, has Joe already asked you to stick around for 'the greatest guitar-pop band in the world'? Oh, he has... several times, in fact. And Simon, too. Okay, just checking.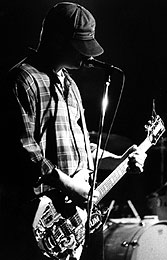 Swervedriver are a lot like those old York Peppermint Patty commercials, inasmuch as whenever I bite into a York Peppermint Patty / listen to a Swervedriver album I get the sensation that I'm standing at the entrance to one of Switzerland's alpine train tunnels in January. The frigid wind slaps my face raw, and all around, the hollow howl of trains deep underground reverberates through the mountains. Live, however, Swervedriver's a slightly different matter.
Last time I saw Swervedriver on that fateful Valentine's Day 1994, Medicine got stopped at the border and canceled; Therapy? got pissed off at the even-more-psychotic-than-usual security staff for beating the snot out of a guy in the front row (and then moving on to the band's road manager when he tried to intervene); and Swervedriver got really, really stoned. Face it, the only things moving on stage were the Vari-Lights. I walked out after the third song.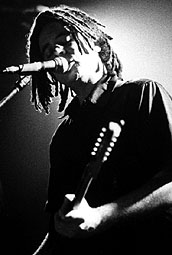 So tonight, if nothing else, Swervedriver do show a bit more life (well, only just a bit...) and offer an affirmation of the old 'if it ain't broke, don't fix it' ethic that's driven them since the early part of the decade. Sure enough, subtle-nuances-that-are-apparent-on-the-albums aside, there's nothing about the newer material from the past two albums that's so drastically different it won't fit in with 'classics' like "Duel" or "Rave Down" in tonight's live set. (And as Vancouver's live scene dies a lingering death, the line in "Rave Down" that goes "There could be something happening here but there's just no place to go" has never sounded as poignant.)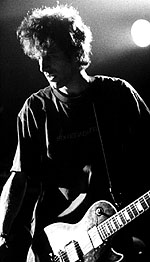 And, once again, trust Swervedriver to also crank the volume to stupidity until you feel like Steve McQueen himself is shoving your head up against an revving V-6. The surprise here is (considering you've remembered your earplugs) the presence Adam's vocals have in the mix (i.e., that they haven't disappeared completely), as well as the rich tones of Steve's bass. Jim Hartridge, feet glued to his wah pedal, chokes the living shit out of his Les Paul, attempting to approximate the sound of a nuclear-powered Indy-car pileup.
My friend Steve wanders up to me and asks if there really is blood coming out of his ears as the band returns to the stage with an encore of "Sunset," about the only song of the evening that loses absolutely none of its sun-fried splendour to the sheer volume of sound coming through the PA system. Swervedriver, after being dropped from two of the most important labels of this decade, aren't giving up just yet, probably realizing that there are still more than a few more ways for Adam and Jim to make a Fender Jaguar sound like a G.T.O. -- and certainly they've still got the audience for it. Everybody happy? Good.
---
First published in Drop-D Magazine on April 11, 1998
Index | Search | E-mail | Info | Copyright

Considering copying some of the images from this story?
Please read this first. Thanks.