Wherez da PEELers?!?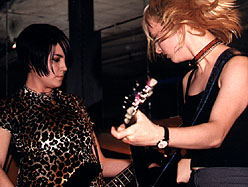 The Go-Devils
with Motorama and Jet Set
The Cobalt Hotel
Vancouver, B.C.
Friday, April 10, 1998

Review by Alphonse Leong
Photography by Rodney Gitzel
---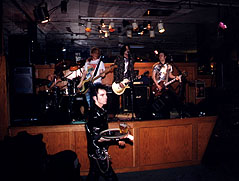 Nothing like watching a band through a shower stall! Yes, former strip club the Cobalt has (mostly) metamorphosed into a rock venue, and on this opening night, the female-fronted Go-Devils are chosen as the headlining act -- possibly to nudge any leftover strip fans into becoming live music enthusiasts? Alright, guys, there are women on stage, they aren't wearin' that much and they are groovin' to the music, that's pretty close to what we had before, right?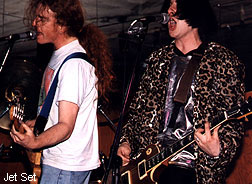 But first, the ceremonial grand opening soundcheck event, a loud, annoying affair, but also a chance to check out the ambience of this joint. And what's that?! Sid Vicious reincarnated as a bar waiter?! Certainly the slickest black jacket and the largest set of chains I've seen on anyone in the hospitality industry. And check the sign on the women's washroom door: Absolutely no fighting!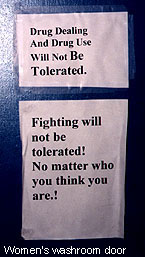 Okay, now that we've grasped the character of the place, the first band finally comes on. It's Jet Set, with their full-speed-ahead grungy pop. Decent harmonies can be heard, especially on a catchy number called "Sexual Holiday," and the band is feeling kind of frisky, with the guitarist intermittently yelling out "Shower! Shower!" Warm resonant sounds from a nice gold-top Les Paul, petulant stares and a frenetic beat -- all you'd want in the first band of the night.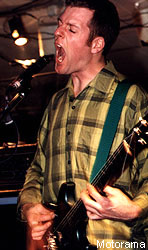 Next act Motorama are a strange sight. With a Lisa Loeb lookalike on drums and two guys in checkered short-sleeve shirts, they could be some perverse Nashville group. But, no, they kick! Not in any earth-shattering way, but in a hypnotic, almost techno fashion. Marcus Lander gets a cool pulsating fuzzy sound from his guitar and he sings in an anguished Trent Reznor-like way on a few songs. Not speaking much, he utters stuff like "Painkiller" or "Stiffed" and you don't know if he's introducing songs or simply making random observations on his own life. The interplay between Denise Reichou's work on the toms and Ryan Schmidt's terse bass lines is interesting and the crowd cheers after every song, so they must be doing something right.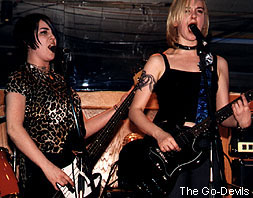 When the Go-Devils come on, I immediately notice that bassist Becca Stewart looks like a cute Sixties' fashion model with her girlish mop of black hair and her bewitching sideways glances at the audience. And vocalist/guitarist Natalie Baulieu looks like a slim blonde artsy chick you might meet on the streets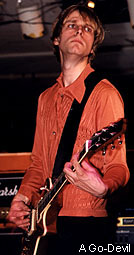 of London. They are both dressed in dark shoulder-exposing outfits with matching thick-soled boots and... a sudden blast of guitars reminds me that they're here to play music!
A description of the Go-Devils' style? Well, there's a great gnashing of guitars, but it's hard to hear the vocals on the first few songs. When I do make out the voice, it's a rather trebly little girl sound that's hard to hook onto. It works almost like a background instrument, especially on a long, mesmerizing number called "Motel 666." The band pumps, with no particular virtuosity, but they do sell a number of their new 7" single from the stage after Baulieu waves a copy invitingly and coyly points out, "It's only a buck!" The Go-Devils probably didn't make as much tonight as the average stripper would, but, hey, they're out doing their thing, so there!
---
First published in Drop-D Magazine on April 25, 1998
Index | Search | E-mail | Info | Copyright

Considering copying some of the images from this story?
Please read this first. Thanks.