The Beauticians and the Beast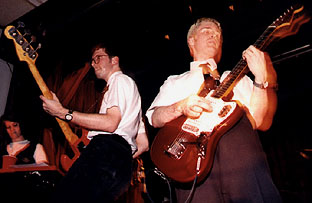 The Beauticians
with Lavish and The Mach III's
The Anza Club
Vancouver, B.C.
Friday, May 1, 1998

Review by Darren Gawle
Photography by Suzanne Goodwin
---

The Mach III's -- yes, the name sounds familiar, but I can't quite place it... oh, wait a minute... oh dear. Oh, dear me. It occurs to me only too late that I have seen the Mach III's before -- they were that surf band that used to cover Nena's English version of "99 Red Balloons." Well, there's no turning back now...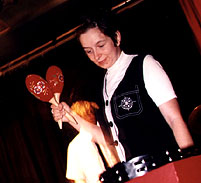 The Mach III's have undergone a bit of reconstructive surgery over the months since I last saw them, adding a second drummer, losing a vocalist, switching bassists and acquiring two Ace-Tone organists/go-go-dancers who do a whole lotta dancing and not a whole lotta organ playing. Hey, are you listening? No, you're hung up on that 'second drummer' comment, aren't you?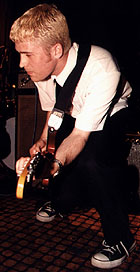 Well, thankfully the Mach III's do not end up sounding like Feargal Sharkey. (Feargal Who? -- er, go ask your Dad...) What they do end up sounding like is the Ventures on steroids channeling the spirit of King Kamehameha his very self. Most of the set list is dominated by selections which may or may not be all covers (and with surf music, who can tell?), although there's no mistaking "A Taste of Honey" and plenty of wondering if that really is a cover of "Spice Up Your Life" (which it is!).
And speaking of covers, what the hell possessed Lavish to do Eddie Money's "Two Tickets to Paradise"? Ye gods! There's actually something rotten in the state of Lavish tonight -- or more correctly, something rotten up the state of singer Jill's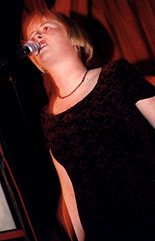 sinuses (i.e., a hum-dinger of a cold). Jill manages to successfully complete the show, but not without a strange and wondrous thing happening first. I suppose that on a good night she'd hit the notes alright and Lavish would sound like any adequate local band; a bit Velvet Underground-y in the guitar department and with all the requisite alterna-pop qualities, but ultimately not a memorable experience.
But, as I've mentioned, Jill's battling a cold, and all of a sudden we have the most unintentionally brilliant vocal performance of the year. "Two Tickets to Paradise" gets sent into irony overload with layer upon layer of congested Teutonic drone, making the prospect of two tickets to paradise sound like an invitation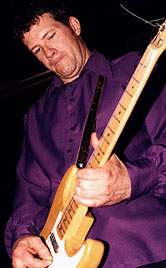 to root canal work. The shiny happy pop of "Happy/Sad," easily Lavish's best song, ends up packing an unexpected snarl, and when Jill goes for the throat by trying to hit a few high notes, we get just about the only successful approximation of Johnny Rotten's squalid cockney howl, ever.
And no, I'm not being sarcastic.
The Beauticians are billed as being made up of former members of Bob's Your Uncle (now there's a blast from the past), the Colorifics and the Smugglers. Their musical pedigree thus established, we're left wondering how a band that features three violinists will possibly rock the house. The answer, in this case, is that any band prone to covering "The Ballad of Peter Pumpkinhead" in a quasi-lounge style -- with said violins -- obviously feels that rocking the house is not the point. And, as the usual denizens of the Anza Club would say, too bloody right, mate.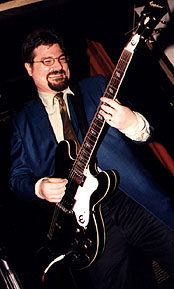 So chalk up the first truly great performance by a local act I've seen this year (as of yet). We have GREAT SOUND!, with the violins well represented in the mix -- a feat in itself, if it weren't for the fact that all the vocals are mixed just as well along with the other instruments. We have EXCITEMENT! as the Beauticians realize that Furnaceface is in the audience. And we have A GUITARIST WHO LOOKS LIKE THE SINGER FROM THE BARENAKED LADIES AND ACTS WAY TOO ENTHUSIASTIC TO BE TAKING HIMSELF SERIOUSLY! I realize that (a) it's about time I saw someone having fun on stage, and (b) that I should get this caps lock key looked at one of these days.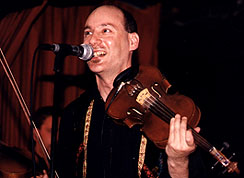 The high point of the Beauticians set comes, wouldn't you know it, during a song they introduce as 'a cover' and which remains unidentifiable, as they proceed to not follow the order of their set list (I looked at it later, see, so I know). Suffice it to say that the harmony vocals and massed violins carrying sustained notes bring an almost elegaic quality to the evening, as well as sounding not unlike a Mellotron on its 'choir' setting, which is always nice. Imagine the Tindersticks covering the Left Banke's "Pretty Ballerina" and you're partway there. Ingenue.
Great sound and a great evening all 'round in the heart of Mt. Pleasant -- who'd have thought it?
---
First published in Drop-D Magazine on May 29, 1998
Index | Search | E-mail | Info | Copyright

Considering copying some of the images from this story?
Please read this first. Thanks.