Self-Titled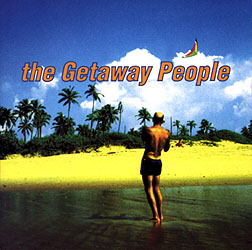 The Getaway People
Columbia

Review by Darren Kerr
---

For those of you who have always wondered, "Hey, what would a cross between G. Love & Special Sauce and Little Feat sound like?" Here's your answer. Dixie Chicken Blues Beat Box Music... from Norway.

Getaway People are pretty damned adept at creating laid back funky tunes, and these five fresh-faced jeepsters appear to be fixated on the dysfunctional reality of drug use. They tell the listener, "Drugs are bad because we know they are, and have we got tales to tell you," and whether or not you believe them isn't the point. "Mr. E" is a nursery rhyme about a band whose members fall prey to the pusherman, one by one ("4 little kids in a rock'n'roll band got an axeman goin' with a demon in his hand/Likes to pose, expose, man it snows up his nose this is how the story goes/Lost in a maze doin' Purple Haze. Beautiful! Beautiful!/ From the A to the B to the X-T-C to the D doing E, then there were 3").

In other places they try to hit hard with the social commentary, as in "Blind," "Does My Colour Scare You", and "Get a Handle on It." But whether it's their simple English phrasing or just the fact that they're trying to say too much, it doesn't work.

Then again, who cares? It's not like people are hanging on Bjork's every word. The songs, the melodies, they're good, here. The instrumentation sounds natural: the guitars glide, the electric piano is tasty, and the groove is definitely there.

I would say that this is the funkiest thing to come out of Norway since Urban Dance Squad's "This is No Kid," but Urban Dance Squad are Dutch, so the Getaway People stand alone.



---
First published in Drop-D Magazine on July 29, 1998
Index | Search | E-mail | Info | Copyright

Considering copying some of the images from this story?
Please read this first. Thanks.