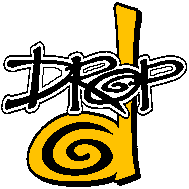 Vol. 1 No. 17
August 2, 1996
Drop-D Magazine
Vancouver's Music Magazine.
ON the 'Net and OFF.

Issue #4 of Drop-D offline is now on the streets of Vancouver! Just look for "Gene Simmons" on the cover...


Search for something
Features
Anything but R.I.P.
Hugh Dillon on movie money and music as hockey.
Interview: Hugh Dillon of the Headstones
Scream, Vancouver, Scream!
San Diego's gift to rock, roll, and bowling shirts.
Interview: Apollo 9 of San Diego's Rocket from the Crypt
Still Smokin' After All These Years
Woodstock veterans are capturing second- and third-generation fans.
Interview: "Fito" de la Parra of the legendary Canned Heat
Hey, Where'd All the Old Guys Go?
Four good local bands just miss the mark.
Live Review: Tone / Jabber / Dorothy Missing / Talmige Bachman, The Gate, July 18, 1996

CD Reviews
FiveStarGeneral
Neuralgia
Sloan
One Chord to Another
Santo
The Star-Lick Baby 7"
Total Chaos
Anthems from the Alleyway