One Chord to Another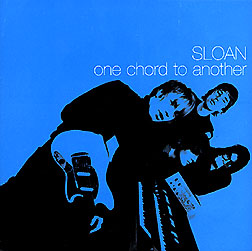 Sloan
murder/MCA

Review by Nolan Webb
---

excerpt from "autobiography" (318 Kb .au file)


The third album from Halifax's favourite sons leaves me asking, "What happened?" One Chord to Another is quite a departure from their previous albums, which featured perfect pop (Twice Removed) and fuzz guitar (Smeared). There's no problem with a band changing directions: often it's beneficial. But this change has been for the worse. This album plays like a cheap version of a 60's Beatles rip-off. I swear I thought someone had slipped St. Pepper's... into my stereo. It's all been done before, and it's a shame, because Sloan have always been heralded by fans for their originality. The [ed. hopefully] tongue-in-cheek liner notes, which boast of the band's originality and reputation for maximum entertainment, leave me wondering if this album isn't a joke upon the music industry. Perhaps it is a challenge from the now Geffen-free band to see just how far they can stretch their popularity?



---
First published in Drop-D Magazine on August 2, 1996
Index | Search | E-mail | Info | Copyright

Considering copying some of the images from this story?
Please read this first. Thanks.