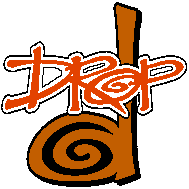 Vol. 1 No. 20
August 23, 1996
Drop-D Magazine
Vancouver's Music Magazine.
ON the 'Net and OFF.

Zzzzzzzz...

Features
Where's My Lava Lamp?
Arts and social change festival takes over seaside park.
Live Review: Under the Volcano '96, Cates Park, August 11, 1996
Abducted by a Rocking Horse?
You might get complaints if you sprinkle this cinnamon on your latte...
Interview: Vancouver's Cinnamon
Forbidden Black Market Bitches
It wouldn't be the same without the leather g-string -- or the neck chain.
Live Review: Muscle Bitches / Forbidden Dimension / Black Market Babies, The Starfish Room, July 20, 1996
Alternative Radio? We Don't Need No Stinkin' Alternative Radio!
A good hockey team, on the other hand...
Opinion: Alternative radio in Vancouver.
Soakin' It Up Like a Sponge
Detroit's Sponge wax ecstatic for your reading pleasure.
Interview: Sponge
Two Out of Three are Bad
Out-of-towners are the only band worth seeing.
Live Review: Minority / Punch Drunk / Atomic Boy, Gastown Music Hall, August 16, 1996
Steely-Eyed Art Criminals
Veterans would do to crack the occasional smile.
Live Review: Steely Dan, Nat Bailey Stadium, August 16, 1996

CD Reviews
Contention
House of Contention
Jeremy Enigk
Return of the Frog Queen
Steve Mitchell
Batch
Pluto
self-titled