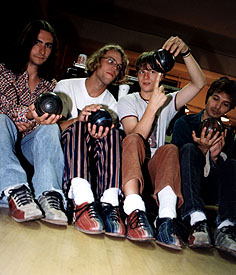 Abducted by a Rocking Horse?
A Koffee Klatch with Cinnamon
Interview by P. Freako
Photography by Suzanne Goodwin
---

40-second excerpt from "Super Hi-Fi Love Song" (various formats)


Cinnamon is a spice -- it's something you sprinkle on your latte. But there is a new form of Cinnamon emerging in Vancouver: a four-piece, space rock super guitar pop band. How appropriate that I get a chance to talk to them at Starbucks...

Cinnamon consists of Terry Miles on lead vocals/guitar, Kevin Cooper on bass/backup vox, Tom Williams on lead guitar and Marq Desouza on drums. Terry, Kevin and Marq joined me for coffee today.

Things have been pretty darn good for Cinnamon these days. They contribute music to CBC's television show, Madison; they have a licensing deal for their current record, Cream Soda; the video for the single "Super Hi-Fi Love Song" has been played on MuchMusic; they've been interviewed by Terry David Mulligan for MuchWest; and they just came back from their first tour where they performed at North by Northeast. Currently, they are in the studio mixing their new record, scheduled to be released later this year.

Those are the mundane details. If you want the personal stuff, I recommend picking up their new fanzine, entitled Hyperdrive. It's Cinnamon's fascinating monthly space rock journal. I didn't know Marq had been abducted twice.
Marq: "It's not true, I don't ever remember being abducted."

Kevin: "Ya, I don't see any metal things in the back of his neck."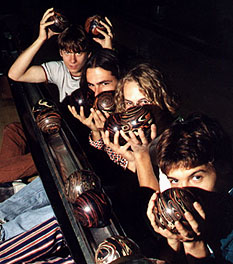 So do you they think other bands have been abducted? "I think Pluto was abducted..." says Terry. "Abducted by a big record company: Virgin UFO." All this space stuff; is world domination in their plans? "Hmmm, world domination is a hard racket to get into, it's pretty involved, but if Pinky and the Brain haven't done it yet..."
Terry: "Have you told him the rocking horse story yet?"

Kevin: "Okay, my girl Jody had a rocking horse when she was young and it was named Cinnamon. It's a sweet story, and it's true!"

Terry: "We haven't come up with a better story yet about how we got our name."
Cream Soda was released earlier this year, and the band is already mixing a new album. Apparently it will differ greatly from their debut: "The new album is going to be quite a contrast. It's going to be rawer. With Cream Soda, there was more time plotting and trying to make everything perfect. We were fast in the studio with the new one. I think we did nine songs in nine hours…we got most of the beds down for three instruments in that time… it's going to have a better feel to it. It's going to be like the second side of Abbey Road. One big thing and not just a bunch of songs. I'd like to get the guys from Sloan to produce it, but they're pretty tough to track down."
Kevin: "We were playing at the Ship 'n Anchor in Calgary and I told one of the bouncers that he reminded me of Bruce McCullough from Kids in the Hall."

Terry: "One thing leads to another and open hands lead to closed fists."

Kevin: "I guess they don't like Kids in the Hall in Calgary!"
How was touring? "We didn't play between Edmonton and Toronto, it was more of a sightseeing tour... lots of camping. We got to Toronto about an hour before we had to be on stage. We were driving 16-17 hour days and didn't know where we were going. It was weird, everything outside of Toronto for 70 miles is still civilization... We played at Anya's Falafel House on Queen St. and it turned out pretty good, everybody there was either industry or had some kind of pass around their neck. We were mobbed with business cards after the show. It was funny, the stage manager's yelling at us to get off the stage and people are talking to us, telling us that they really liked it. The record company took us out for chinese food and that's the first time we saw our video.. in the back of a chinese restaurant. It's good, it's kind of a Teen Beat thing."
---
First published in Drop-D Magazine on August 23, 1996
Index | Search | E-mail | Info | Copyright

Considering copying some of the images from this story?
Please read this first. Thanks.