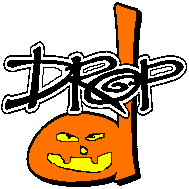 Vol. 1 No. 29
October 31, 1996
Drop-D Magazine
Vancouver's Music Magazine.
ON the 'Net and OFF.

BOO! Bwahahahaha!...
Ok, so I don't draw very scary jack o' lanterns...

Features
Don't Have a... Well, You Know
Free tapes for everybody!
Interview: Vancouver's Hissy Fit
There's Breast in my Headlock!
Three quite different -- and good -- girl bands invade West Van.
Live Review: Spiritual Heroine / Liquid Amber / Revulva, Dewie, Pardie and Howe, October 25, 1996
No Trouble at the Hip House
Paul and Paul discuss plans for world domination.
Interview: Paul Langlois of the Tragically Hip
A Room with a (Balcony) View
Music films from the Vancouver International Film Festival.
Film review: Road Movie, Summer Cannibals and Hype!
It's a Bird! It's a Plane! It's... a Fish?!?
Monks, nuns and a guy in jams.
Live Review: Les Claypool / Protein / MIRV, The Town Pump, October 18, 1996
Isn't This B.C. Place?
Local bands are in the groove. Maybe too much so, at times...
Live Review: Ressurection Mary / Noah / Planet Hopper, The Starfish Room, October 12, 1996

CD Reviews
Dick 'n' Jane
self-titled
Wheat Chiefs
Redeemer