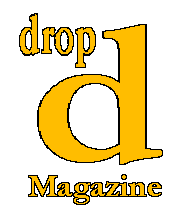 Vol. 1 No. 3
April 18, 1996
Drop-D Magazine.
Vancouver's Music Magazine.
See you next Thursday...
Features
Hop on Down to Gastown
The Phunky Toad has opened its doors! Ribbit.

Show Reviews
School's Out -- Let's Party!
Last day of classes at UBC brings on the annual cool Arts County Fair.
Riot at the Oasis
A coin, a sneaker and 10,000 pissed-off teenagers.
Sweat-Soaked Goops and Chocolate-Filled Goofs
Whatsa matter? You eat too much turkey at dinner?
Iz Funk Aroma Thera 'PU' Tik?
270 Hot Minutes with the Chili Peppers, Toadies and Weapon of Choice.
Pluto and Cracker(s), Anyone?
The Commodore basks in the glow of the Golden Age.

CD Reviews
The Dawning of the Age of the Furry Pogues
The Pogues' Pogue Mahone.
Fun, Catchy Songs about Everyday Life
hi-fi and stereo, from Mollys Reach.