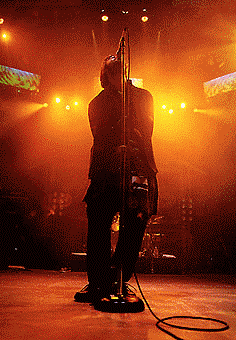 Riot at the Oasis
Oasis
with Limblifter
The Pacific Coliseum
Vancouver, B.C.
April 10, 1996

Review by Daniel Ewacha
Photography by Rodney Gitzel
---

[editor's note: "There was a riot at the Coliseum! Oasis walked off stage and refused to play!" I heard it second-hand, that Wednesday night, and, living only a few blocks away, I was quite annoyed I'd missed it. Happily, I guess, it wasn't really a riot -- lots of yelling, but that's about it -- though Oasis had indeed walked off the stage in a flurry of profanity -- "We're not a bunch of fucking monkeys" was nicely captured by the local TV news cameras -- after only five songs. It's been the talk of Vancouver since, and everyone has their own version of the story (my favourite involves the promoters scouring the city, à la Cinderella, looking for a foot to match the mythical sneaker-that-hit-Liam-in-the-head) and their own opinions -- mostly bad --
of the whole affair. At the time of this writing, the promoters, Perryscope and Timbre, are still working things out (to put it nicely) with Oasis management, and refunds are said to be in the offing.]

I've just finished listening to Bruce Allen's radio show Sound Off. Tonight's special guests were Oasis' manager and Mark Norman from Perryscope. Now, I have to admit that when I first started writing this review, I ripped apart Oasis for walking off the stage early. But, apparently the whole story was told tonight on the radio: Oasis did not walk off the stage because some shoes and clothing were thrown at them -- or, at least that, isn't the major reason why they left. Rather, it seems that a few disturbed and moronic individuals found it funny to throw coins at the band, hitting guitarist Noel Gallagher in the eye at one point. I have not been to many big shows where shoes or other pieces of clothing were not tossed up on stage, so, big deal. I don't condone it, but it was to be expected. Coins, however, are a totally different matter altogether, and I don't for a second blame Oasis for stopping the show.

However, I do feel I have a reason to slag their show -- or lack thereof -- simply because there wasn't one. For the half hour or so Oasis were on stage, they didn't do anything to convince me that they were, as they often claim, "the greatest band in the world." I'm sorry, but when I go to a show, I expect to see just that -- a show. Oasis definitely do not have anything on U2 or KISS...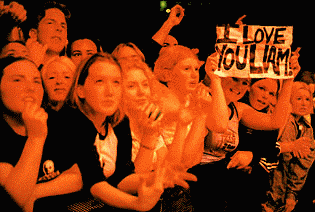 Musically speaking, the boys in Oasis do have some great songs. They also apparently have the ability to whip the crowd into an uncontrollable frenzy. It was the audience that made this show even remotely interesting, and I felt myself being swept into the pogo-ing crowd, even after promising myself I was going to stand back and watch the band play this time. When Oasis played the Commodore last year, it was the audience, once again, that was responsible for making an exciting show out of what little Oasis offered up.
To make a long story short, if you want to experience for yourself an Oasis concert, put a poster up of the band and invite 10 or 15 friends over and crank one of the band's CDs really loud -- you get the same result as being there, only you leave $25 apiece richer.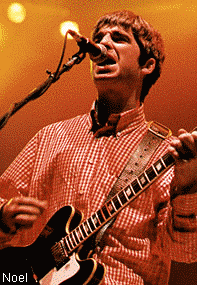 There is still, however, one question for me which remains unanswered. I managed to obtain a copy of the set list after the show. Now, Oasis, for those who are not in the know, are not a band who have any interest in doing encores. After looking at the list of songs, and realizing that they had played half their set in thirty minutes, I asked myself just how long they would have been on stage if they hadn't left early?
Opening the evening's festivities were Vancouver's Limblifter. Unfortunately, I showed up just as they finished, although the reaction from people around me was favourable. So, since I can't really comment on their show, I'll plug their CD. Limblifter is available at all fine record stores.
---
First published in Drop-D Magazine on April 18, 1996
Index | Search | E-mail | Info | Copyright

Considering copying some of the images from this story?
Please read this first. Thanks.