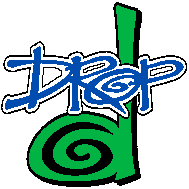 Vol. 1 No. 45
March 6, 1997
Drop-D Magazine
Vancouver's Music Magazine.
ON the 'Net and OFF.

Sorry we're (quite) late with this one. Issue #46 will follow in a couple days.

Features
Really, Honest, I'm a Nice Guy!
They just keep going and going and going...
Live Review: The Pursuit of Happiness / Queazy, Town Pump, February 21, 1997
Drumming Up a Storm
And you thought the Vancouver scene wasn't diverse?!?
Live Review: Veal / Brundlefly / Helen Keller / Third Eye Tribe, Town Pump, February 7, 1997
Discordant Niche Jar'd Open
The band with their own dot.
Interview: Jar.
Sco'ish and Preud o' I'!
Hey, wasn't that groundskeeper Willie?
Live Review: Real McKenzies / Diesel Candy / Wide Mouth Mason, Town Pump, February 15, 1997

CD Reviews
Brock Davis
The River Runs Fast, The River Runs Deep
Noise Therapy
The Dr. Johnny Fever Remixes