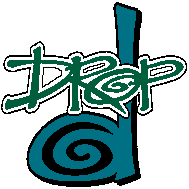 Vol. 2 No. 1
Issue #50!
April 4, 1997
Drop-D Magazine
Vancouver's Music Magazine.
ON the 'Net and OFF.

We're one year old!!

Features
Happy Birthday to Us!!
Anyone want to give us the 'bumps'?
News: Drop-D's First Birthday
Something Freaky This Way Came...
Blue Gatorade and yogurt, anyone??
Live Review: The Jim Rose Circus, Graceland, March 15, 1997
Take Us to Your Turntable!
The aliens are back, and they want your ears!
Interview: Coco the Electric Monkey Wizard of Man or Astro-Man?
I Wish I May, I Wish I Might
One of the fews bands around with a per-use charge.
Interview: Star 69
How Much Does a Tree Weigh, Anyway?
We're not the only ones celebrating a birthday...
Live Review: Screaming Trees / Citizens Utilities / Jar, The Rage, March 16, 1997

CD Reviews
David Bowie
Earthling
The Happy Campers
Blood Sweat and Beers
Live
Secret Samadhi
The Timber Kings
She Changed Her Name to Mashuma