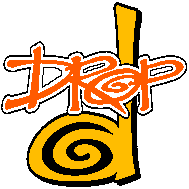 Vol. 2 No. 10
Issue 59
June 13, 1997
Drop-D Magazine
Vancouver's Music Magazine.
ON the 'Net and OFF.

Tonight's the night of our Birthday Party!! Check it out...

Features
Divine Object of Boredom
How come Skunk Anansie always seem to outplay the bands they open for??
Live Review: Rollins Band / Skunk Anansie, Graceland, May 31, 1997
Taking a Bite Out of Rockphobia
They want to rock your ass and aren't afraid to admit it.
Interview: Change of Heart
Big Balls -- and a Bigger Future
That's Saint Dan to you!
Interview: Singer/songwriter Dan Bern
Guitars 3, Vocals 0
Cool guitars and rough vocals.
Live Review: Dick 'n' Jane / Breate Underwater / Bona Fly, Starfish Room, June 7, 1997
The 9AM Breakfast Blues
Much needed coffee with a young prairie blues band.
Interview: Wide Mouth Mason

CD Reviews
Hissy Fit
What to Wear
Retrograde
Burne
Shudder to Think
50,000 B.C.