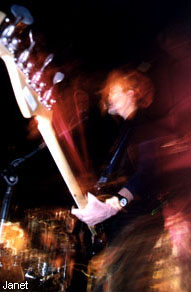 Aussies Set Spidey Senses Tingling
Spiderbait
with Fon Fon and Punched Unconscious
The Mighty Niagara
Vancouver, B.C.
Thursday, October 5, 1996

Review by Suzanne Goodwin
Photography by Rodney Gitzel
---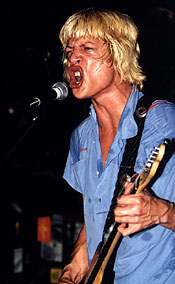 Muscling my way through the throngs to catch tonight's openers, Punched Unconscious, I figured all of Vancouver was crammed into the Niagara Hotel's cloistered pub this evening. Of course, with Vancouver music venues dropping like flies, one has to wonder if people just have no place else to go or if they're really there to see the band. Nonetheless, all eyes were peeled on locals Punched Unconscious and singer/guitarist "Mick Jagger," who resembled the famous real Rolling Stone not only in looks, but in vocal style and undulating hip movements to boot.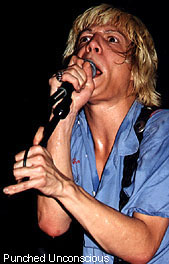 A fair assessment of this four-piece really wasn't to be had tonight, though, since I only caught the last one and a half songs of their set of, to my ears, heavy and rock-edged tunes with lots of loud, raw guitar. I can say they had plenty of energy, and that they had that audience rapport thing happening. So, I'll be looking forward to catching them again -- yah, I know, next time on time!
After an eternity of waiting and mucking about, Vancouver's Fon Fon finally got underway. A bit of a disjointed start had me wondering if this trio had anything unique to offer, as I was finding it hard to distinguish one song from another. And, failing any uniqueness, could they at least do well what they do?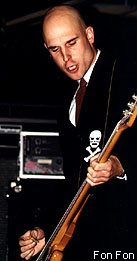 Yes and no. Really tightening up by midway through their set, Fon Fon's intense and powerful rhythm section is what pulled them through this gig tonight. The bass player, incidentally, could have passed for "Bull" on Night Court and watching his contorted facial expressions as he sweated through the set was half the fun. Singer/guitarist Siobhan was hard to miss, too, sporting a (what I believe is her trademark) sequined, slinky little hot pink dress beneath an extra blonde 'doo.
Although she is the apparent focal point of the band, like too many other girl pop singers, Siobhan's vocals and guitar-playing proved to be the weak link in the band's performance tonight. Not straying from that ubiquitous three-chord combo, her guitar strumming was not her strong suit and was pretty much buried in the sound mix. Vocally, the mix again was pretty weak. Siobhan's girlish voice suits the band's overall garage pop sound, but could have benefited from better vocal depth and range. Some beefed up, less simple guitar would better complement the strength of the bass and drums, which oddly enough was all that kept me interested. Once again, another band I'd like to try again, but perhaps a little later on.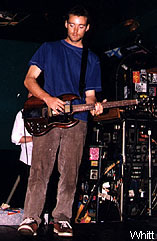 After a really short break, Australian trio Spiderbait fervently jumped headfirst into their varied and rousing set. I had been under some misguided notion that Spiderbait is a punk band, probably due to their stint at Slam City Jam in May. Yet, to label this band as punk is misguided indeed, since to experience Spiderbait is to hear thrash, country, pop, metal, jazz, grunge, funk, mariachi, rock and punk somehow fluidly rolled into one.
Spiderbait pulled everything out of their musical hats. They're one of those bands that can blend a mere three instruments so effectively, you would swear there's a bunch of extra musicians hidden in the back somewhere, covertly rounding out the sound. I was totally impressed with the diversity and quality of Spiderbait's material and playing. Obvious influences came through and most notably I could pick out early Black Sabbath (particularly in the guitar) and even (gasp!) the Beatles in Spiderbait's short, fast-paced songs.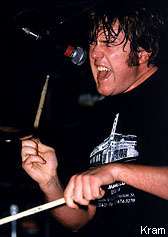 Everything about this band was diverse: from the wah-wah to fuzz guitar, the hooky to groovy bass, the country tapping to punk drum smashing, to the sharing of lead vocal duties between bassist Janet to drummer Kram. Although Janet's vocals didn't quite have the powerful growl of Kram's, she put her whole tiny frame into it (I swear her bass guitar was bigger than she was). Although not particularly dynamic, the gusto and clarity of her vocals impressed upon me how the technical expertise of this band is used to augment her perhaps less than perfect voice.
Totally together, the trio's sound was surprisingly cohesive considering their diversity of style. Confident onstage, Spiderbait came off as rather polite, if not slightly quiet, putting their look completely at odds with their sound. However, this certainly didn't affect audience participation, particularly from one regular stage diver who knocked down a couple of stage lights from the Niagara's unusually low ceiling. With this solid start to their Canadian tour, I'm sure there'll be lots more feet and bodies flying as Spiderbait takes over stages across our country.
---
First published in Drop-D Magazine on October 20, 1996
Index | Search | E-mail | Info | Copyright

Considering copying some of the images from this story?
Please read this first. Thanks.