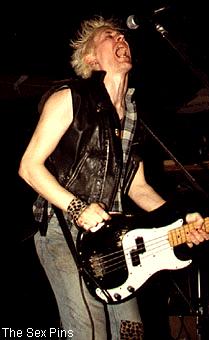 Freako Goes (Music) West
Part 1, Part 2, Part 3

Music West '96
Vancouver, B.C.
May 2-5, 1996

Text by P. Freako
Photography by Suzanne Goodwin
---

Sunday. Again, I woke up early and made my way down to the Plaza of Nations. Attended a couple more seminars and wandered around Slam City Jam, The North American Skateboard Championships. Pretty cool stuff, and those guys can 'board! There were booths and vendors and live bands playing at the HMV booth. I caught Spiderbait, an Australian punk trio. The sound outside was, shall we say, not flattering and it took away from their show. Still, they were pretty cool. The drummer/singer was kind of a goofy looking guy who just kept pounding away at the skins.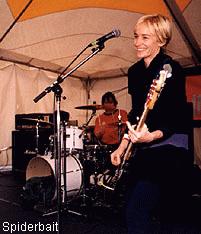 What sets Spiderbait apart for me is that they are a punk band that possesses a sense of humour in their music. A rarity for sure. Cheers mate! Put a hippie on the barbie! I'm glad my parents weren't at Slam City Jam. It would have crushed them to see their 27-year-old son towering over 12-year-olds to look at skateboards. Oh well, I guess I better go now.

Saturday night I was tied to previous personal commitments, so I managed to catch only one band, but it was a very good band. The Colorifics were closing at the Gastown Music Hall on this night and they brought their 30's-40's swing lounge style mixed with a 50's rock influence to the crowd with stylin' fashion polished with poise, grace and fine musicianship. They created a very sultry, smoky atmosphere in which those dancing could peer into their partner's eyes knowing that their night was not going to end after the show. Is it getting warm in here? I've gotta go. See you tomorrow!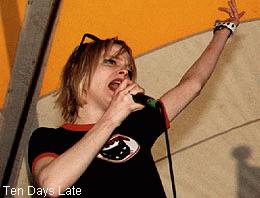 The vertical competition, the curvature of air time. Skateboarding heaven. I was fortunate to catch some awesome skateboarding this afternoon, which put me in a cocky, happy mood. The result of this was me seeing a band I had seen before. The shame. Ten Days Late performed a quick set at the HMV stage and it was worth it. So there!! Hometown punkers, they played a fun, energetic set of their reality filled punk music. They've got a CD coming out soon, and I'm pretty excited about it.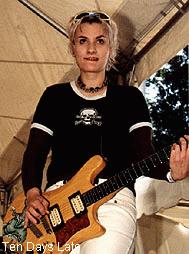 After viewing some wicked skateboarding and a cool punk band, I made the mistake of checking out the Music West trade show. Very few booths this year, and there was hardly anything there. I ended up talking to this artist from Edmonton for an eternity and she was just too perky for a Sunday afternoon. I might just have to go to Edmonton and talk to her about it. Her energy, though, was a breath of fresh air. I'm catchin' a second wind. On with the show.
Sunday night it was off to the Music Waste Punkaoke wrap-up party at the Mighty Niagara. This is karaoke without the stupid machine. Instead, you use a live punk band, and tonight it was The Sex Pins. You just sign up for the song you want to sing and climb on stage and do it. It would be enough to scare most business people/office types away, I'm sure. Bonus! Paul Mackenzie of the Real McKenzies sang a trio of songs that left a lasting impression. He sang his first song and immediately after asked the band if they could play faster, "you know,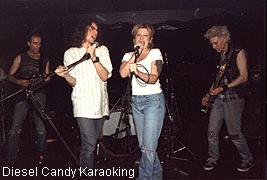 punk rock." Warning signals started going off in my head sayin' he's gonna get crazy...and he did, wiping out two mic stands and leaping into the crowd looking like he's gonna pop a vein or something. He got wild and crazy and tried his best to destroy the stage and it was bloody amazing! He gets the A... O... fuck you, middle finger punk salute. Two members of Diesel Candy were up next and sang "I Want To Be Your Dog" by Iggy Pop. It ruled. Other notables included such punk anthems as "Blitzkrieg Bop," "Anarchy in The U.K." and "God Save the Queen." This was a ton of fun, it was crazy, unique and a wicked idea and next year I'm singing. What will I sing?... Hmmm. Sorry, I got distracted.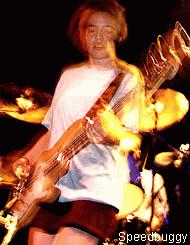 I'm not quite done yet. I headed up to the Gate to catch Speedbuggy, an alternapoprock group. They had some pretty cool stuff happening, but after Punkaoke it just didn't seem to matter; it lacked that edge I was looking for to end on a high. Just wasn't there.
So, as I started, I ended, with a lackluster feeling. Hindsight for next year, I suppose, but, then again, I say that every year. We're all going to have to get rid of the bloodsuckers next year and make it a total musicthon -- with Punkaoke of course. See ya next year.
First published in Drop-D Magazine on May 12, 1996
Index | Search | E-mail | Info | Copyright

Considering copying some of the images from this story?
Please read this first. Thanks.